Calan Breckon • Updated May 26, 2023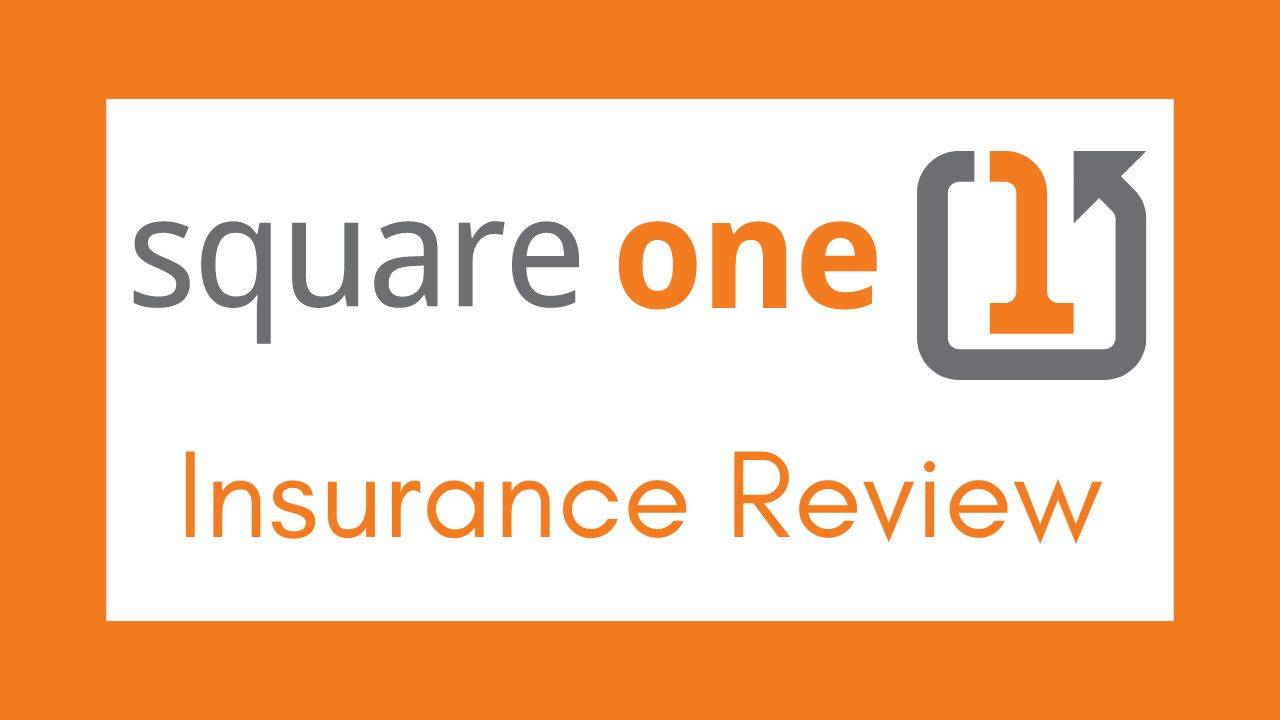 If you're anything like me, then you're probably completely lost when it comes to home insurance. For the first time in my life, I had to get tenant insurance (because adulting) but the issue was I also needed it to cover my home-based business. In this Square One Insurance review, I'm going to share all I learned while going through the process for the first time.
Apparently, having your home-based business covered under your home insurance isn't such a common thing and it made finding the right such insurance provider for me super complicated.
I would go through all the questions and get to the end only to find out that my home-based business wouldn't be covered.
It was really annoying.
Then I found Square One Insurance Services and I felt like I had finally found a serious insurance company that "got" it.
The whole process with Square One Insurance was really easy and all done online. I answered a few questions that they guided me through (and they even gave me hints as to what other people chose to make my life easier).
The best part is that my business is covered under the same plan so if there is a fire or flood and the computer I use for work gets damaged, it's covered under their insurance services.
Let's jump in.
What is Square One Insurance?

Square One Insurance Services is an insurance agency (or brokerage) that serves British Columbia, Alberta, Saskatchewan, Manitoba, Ontario, and Quebec in Canada. It opened in January 2011 and was started by a team of experienced insurance professionals who recognized that traditional home insurance wasn't meeting the needs of most consumers.
My guess is that due to the rising popularity of working from home that the regular home insurance policy (that doesn't cover your home-based business) was no longer cutting it and they knew they needed to create a better option for entrepreneurs and people that work from home.
How Does Square One Insurance Work?

Square One makes it really easy for you to get a quote in under 5 minutes. I personally took a little longer because I was googling things as I went along but overall they were one of the least complicated ones I tried out.
The first thing you'll see when you come to the Square One Home Insurance landing page is an address box, from there you enter your details step-by-step and they walk you through the whole process.
I really appreciated that as a first-time insurance buyer they prompted me as I went along and even gave me details as to what most people choose and what that specific coverage was for and if it would be relevant to me and my insurance needs.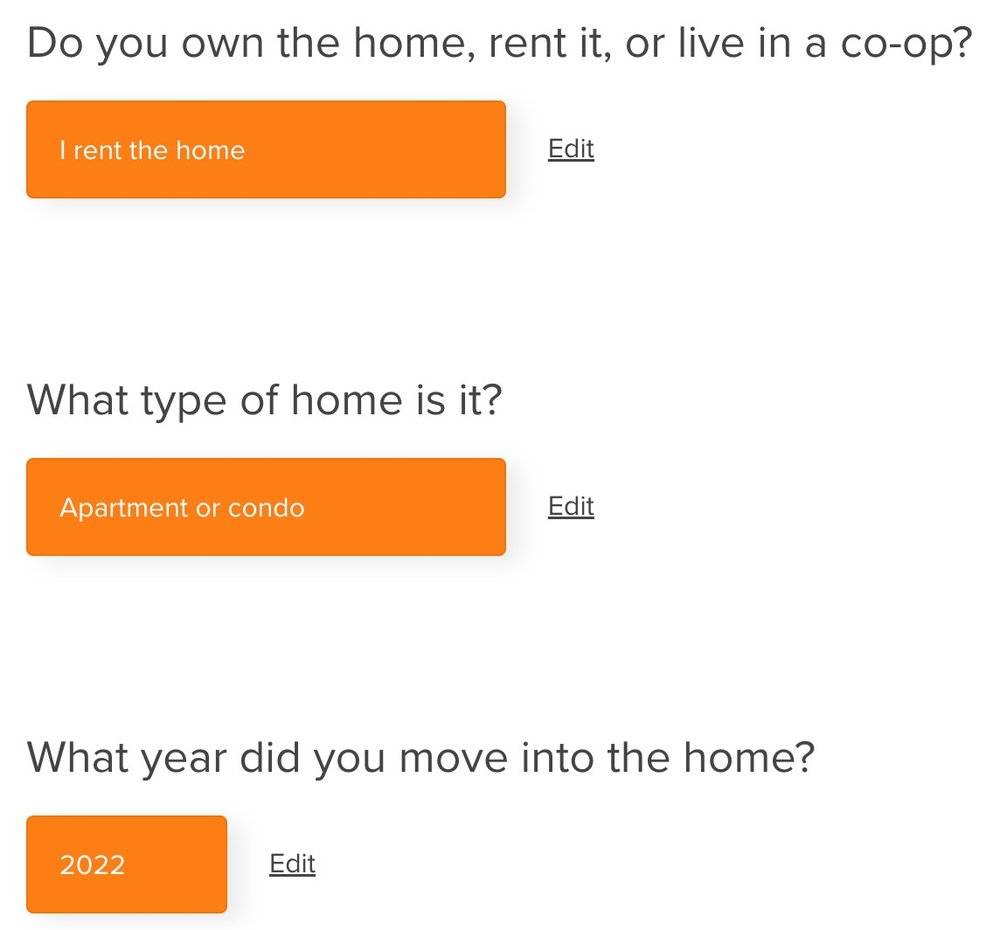 After going through the process Square One shows you your quote and gives you the option to go back and change any of your choices if you need to before finalizing your insurance. This was handy because I actually needed to go back and add my business into my quote and they made it super simple to do.
Once you finalize your quote you proceed with the payment and you're done!
They follow up with an email and any other details you may need to know as well as a few educational emails, which I appreciated as I was still learning all about insurance as a new business owner who works from home.
You can even log in to your account after you're done and make any changes you need to make through your profile. So, if you end up moving you can easily log in and update your information and insurance coverage plan.
What kind of Insurance does Square One offer?
quare One Insurance Services offers home insurance, tenant insurance, business insurance, as well as other options you may need.
Whether you're insuring a primary residence or vacation property, a detached house or an apartment, Square One Insurance covers costs for many of your insurance provider needs.
Click to see the full drop down list of insurance offered by Square One
Airbnb home
All-risk home insurance
Apartment
Building and contents insurance
Basic property
Break ins
Comprehensive home insurance
Contents insurance
Contents insurance for students
Cottage
Dwelling insurance
Earthquake
Fire and theft home insurance
Fire
Habitational insurance
Hail and wind damage insurance
Heritage home
Home business insurance
Home exchange insurance
Home renovation
Homeowner insurance
Personalized home insurance
Condo owner's protection
Condo insurance
Homes with aluminium wiring insurance
Homes with knob and tube wiring insurance
Identity theft
Inland flood
Traditional insurance
Contract dispute legal costs
Sporting equipment and watercraft
Landlord insurance services
Personal and specialty property
Rental income insurance
Rental property
Personal Property
Premises liability coverage
Financial loss coverage
Legal protection insurance
Log home insurance
Older home insurance services
Renters Insurance
Residential Insurance
Second home insurance services
Service line coverage
Tenant's protection coverage
Tenant's insurance
Townhouse insurance
Bicycles sporting equipment
Vacation property insurance services
Water backup
Water damage insurance services
How Much Does Square One Insurance Cost?

Policies start at as low as $12/month and my personal plan that I have which also covers my business items come in at $39/month.
You can really customize your plan as much as you want so it can be as little or as much as you need it to be in order to fit into your budget.
How do I get insurance from Square One?

Square One Insurance Services makes it really easy to walk through their quote process in order to get your coverage.
Simply head over to the Square One website and start by entering your address. Once you do this, they will prompt you with all the questions they need to ask about what you want to have insured and you'll be done in around 5 minutes.
Square One Insurance vs Other Home Insurance
Like I said earlier in the post, Square One home insurance was the simplest option I came across while looking for insurance for both my home and my home-based business that's registered in Ontario.
They also had better rates than any of the other options I saw since they combine my home insurance with my business insurance and it saves me on needing 2 different coverages.
I think it would be wise to still do a comparison each year because maybe someone else will come along with a better offer, but for now, I'm happy with Square One Insurance Services.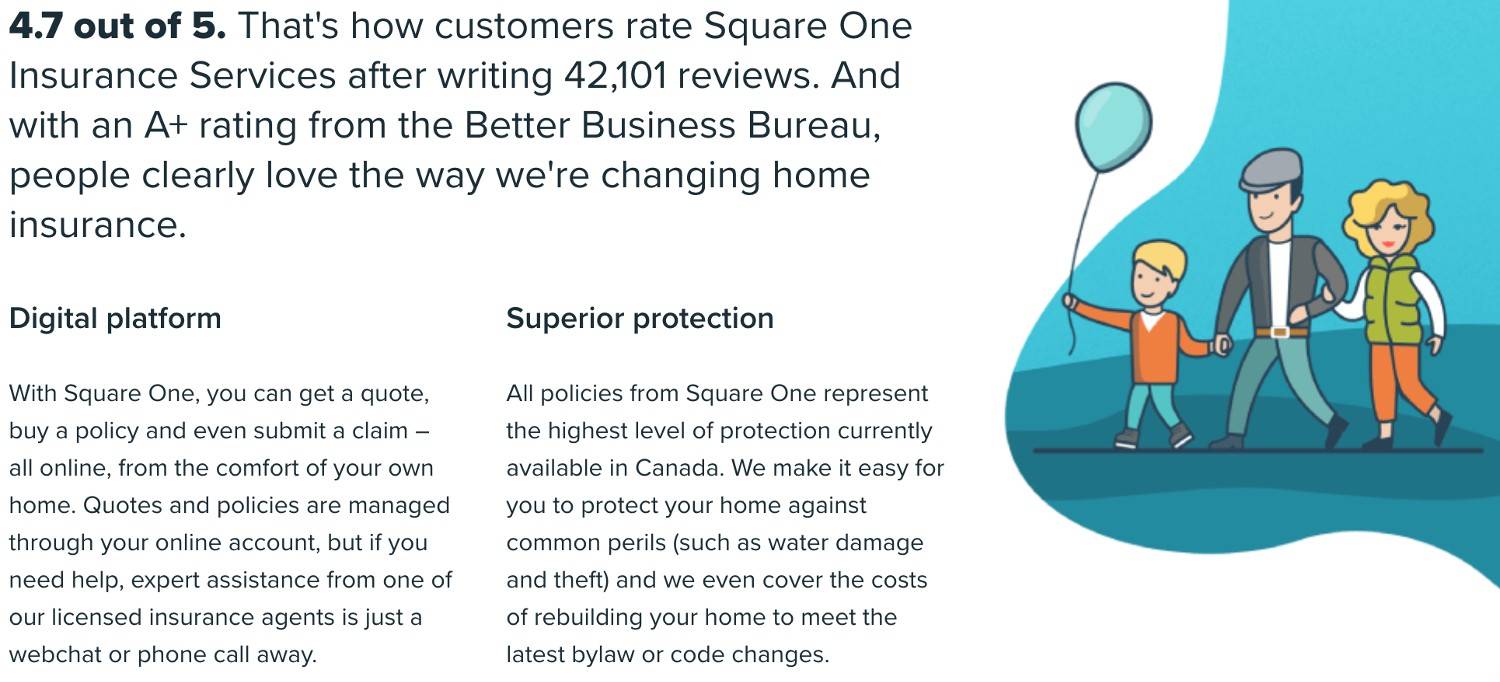 At the end of the day, no one ever wants to need insurance but it's a necessary tool that everyone should have. Even if you're renting and you don't think you need it you never know when a fire might happen or a burst water pipe might destroy all of your belongings.
My mom actually worked in restoration for a number of years and the horror stories she told me were enough to push me into getting insurance coverage. Plus, I also needed to get coverage for my business since I work from home so it was only a matter of time.
It's just one of those things that come with being an adult. I hope this Square One review has helped you and hopefully you'll never really need to use your coverage but it's better to be prepared for the worst and hope for the best because you honestly never know.
Home insurance customers love and trust

I even went to their Google review page to see what people were legitimately saying about their home insurance Square One insurance policy and their ratings we're shockingly high!
We live in a world where things can easily appear as one thing but in reality, it's not what it appears. Being able to see such a high number on an open forum like Google and not just on their website gave me more confidence that REAL people out in the world are using Square One insurance and they're happy with their service.
Check out this screengrab below or google it yourself for proof

Do I need insurance as a home based business?
Yes. If you work from home it's important to get coverage that covers your home-based business with business property coverage, interruption, liability, and more.
Your monthly premium is the amount of money you pay for your insurance to provide coverage. Premiums are determined based on many factors like extra coverage and what you answered for your questions when applying for Square One insurance. You can also pay your premiums yearly.
How to cancel Square One Insurance
You have three options to cancel your Square One:
1) Call 1-855-331-6933 to get hold of a customer service representative and they will help you in a timely manner
2) Email [email protected]
3) By logging into your Square One online account and navigating to the "Contact Square One" page where they have more options like live chat and request a call for you to choose
Where is Square One Insurance Available?
Square One Insurance is available for Canadians in British Columbia, Alberta, Saskatchewan, Manitoba, Ontario and Quebec. They also make it easy to claim online through their website.
Where is Square One insurance from?
Square One has its head office based in Vancouver, British Columbia.
What does Square One cover?
Liability protection covers you against amounts that you might be required to pay to others as compensation for property damage or bodily injury that you cause by accident. Its policies cover your premises (accidents at your home) and personal liability (accidents anywhere in the world). If you want the full list, check it out in the "What kind of Insurance does Square One offer?" section of this article.
Who owns Square One Insurance?
Currently, Daniel Mirkovic is the co-founder and CEO of Square One. The company is one of the original online home insurance providers in North America.
Does Square One offer legal or tax advice?
Yes! If you get their legal protection as extra coverage you'll get access to a telephone legal advice hotline for confidential general legal advice, employee legal defence, property protection, tax protection, tax audits, contract disputes, employment disputes, work related criminal prosecution, and more as part of your legal protection package. Find out all the details here.