Calan Breckon • Updated May 1, 2023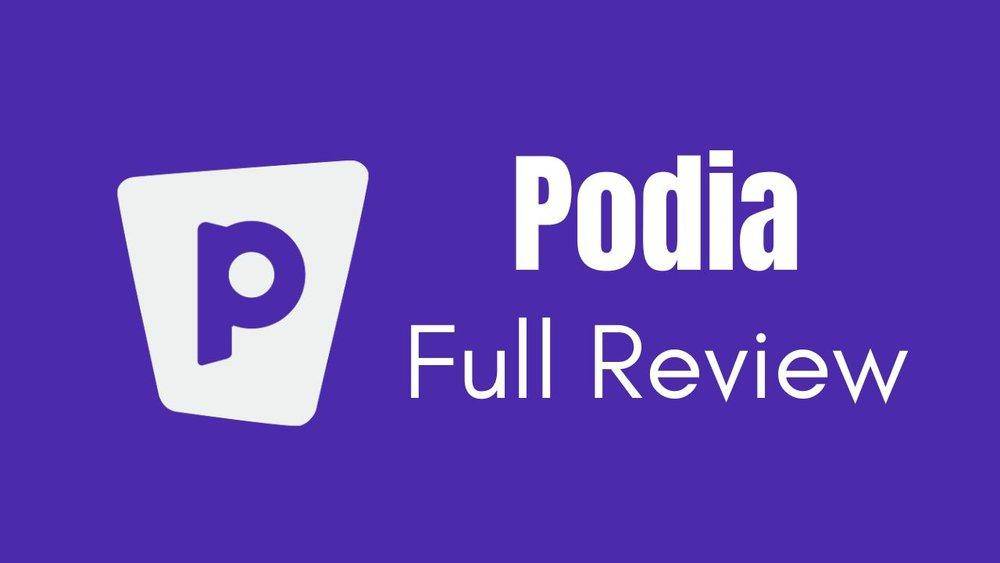 In this Podia review, I'm going to share the pros and cons of using Podia as your digital product hub to host your courses and memberships.
Creating and offering digital products is increasingly becoming more popular as the masses turn to online learning. If you're an online content creator it positions you in a great place to build an online business that can support you and your family for years to come.
I'm excited to take you through this full Podia review, so let's dive in.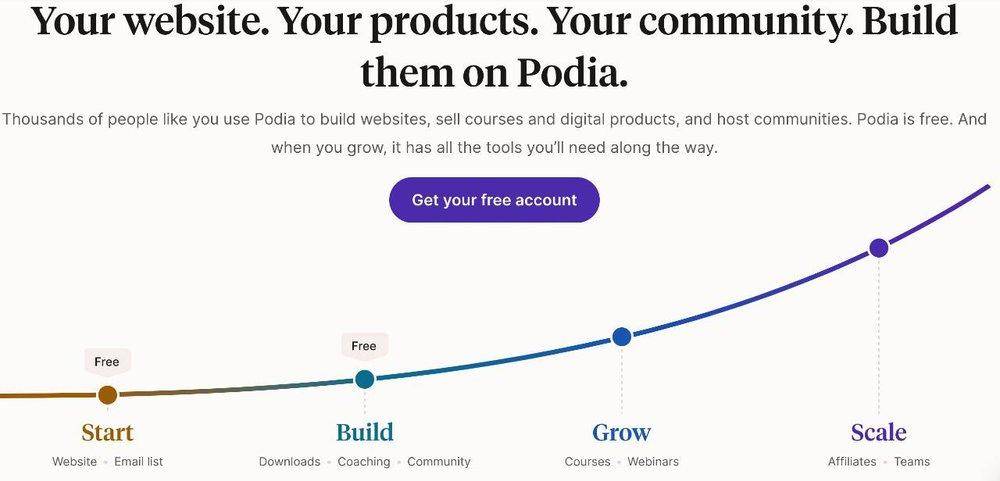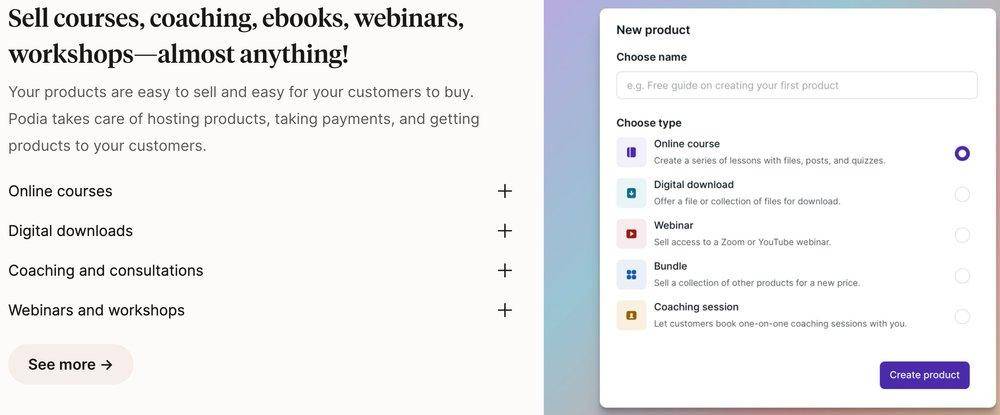 Podia is a great option for someone considering using a platform like Searchie to host their courses and memberships but they're not so "techie" and want everything to be simple and easy.
Podia does a great job at providing a creator (like you) with everything they'll need in order to start, build and launch a successful online business. Unlike most platforms, Podia has a built-in email service provider system so you won't need to go somewhere else and pay for one like ConvertKit if you want to keep everything in one place and keep costs down while you grow.
It also integrates with Stripe which is great since a lot of people know, like and trust Stripe as a payment platform.

Any time a membership or course platform offers affiliate marketing it makes me happy. There is no better marketing than word of mouth. So, if you have a great product it only makes sense to incentivize those people who love it to help spread the word about it.
The downside is you can only have 1 set commission tier so you can't offer bigger or smaller commissions depending on the affiliate. You only get access to affiliate marketing on the Shaker and Earthquaker Plans. If you're looking for a more robust affiliate management system, maybe check out ThriveCart and its affiliate marketing options.
If you're new to the whole email marketing, course creating, and membership-building world then this is your one-stop-shop because Podia has built-in email marketing which is great if you want to keep things simple and all in one place.
Unlimited Courses and Products (on paid plans)
Unlike other platforms that limit the number of products you can offer depending on plans, Podia lets you run wild with your creation, which is nice.
0% Transaction Fees (on paid plans)
Transaction fees are always going to mean money out of your pocket as a content creator so the fact that Podia offers 0% transaction fees on all paid plans is nice. Some platforms still have small transaction fees on their lower-paid tiers so always be on the lookout, those fees can add up over time.

Unfortunately, if you're a coder and wanted to fancy up your course or website on Podia you won't be able to do it unless you're on the Earthquaker Plan (which is the top-tier plan). For most people, this won't be an issue but for someone who likes that freedom maybe this isn't the platform for you.
They do have integrations but you'll most likely want to use Zapier for a few things if you're more advance. That means spending more for the Zapier service on top of your Podia service. Also, the Zapier to email integration is a bit limited so if you want to get super specific it's not ideal.
If you're looking to get super fancy with your website, course layout and membership then I wouldn't say Podia is ideal for you. You only have access to coding on their top-tier plan and the capabilities of the building platform for everything are limited for sure. It's still great for someone wanting straightforward and basic but if you want to get fancy later on it could become a headache. If you're looking to make something more custom maybe check out Searchie.
Email Marketing is Limited
I know I said Email Marketing before was a pro, but there are also cons that come along with it. It's great that they offer the service for those looking for the basics, but it's the basics you'll be getting. If you want to get fancier with your email campaigns and go beyond a basic email marketing service provider then you'll most likely need to get something like ConvertKit anyway and then you'll have to do the work connecting it to Podia and making sure everything runs smoothly together.
If some of these cons have been dealbreakers you can check out my comparison of some of my favourite membership site platforms for other hosting options.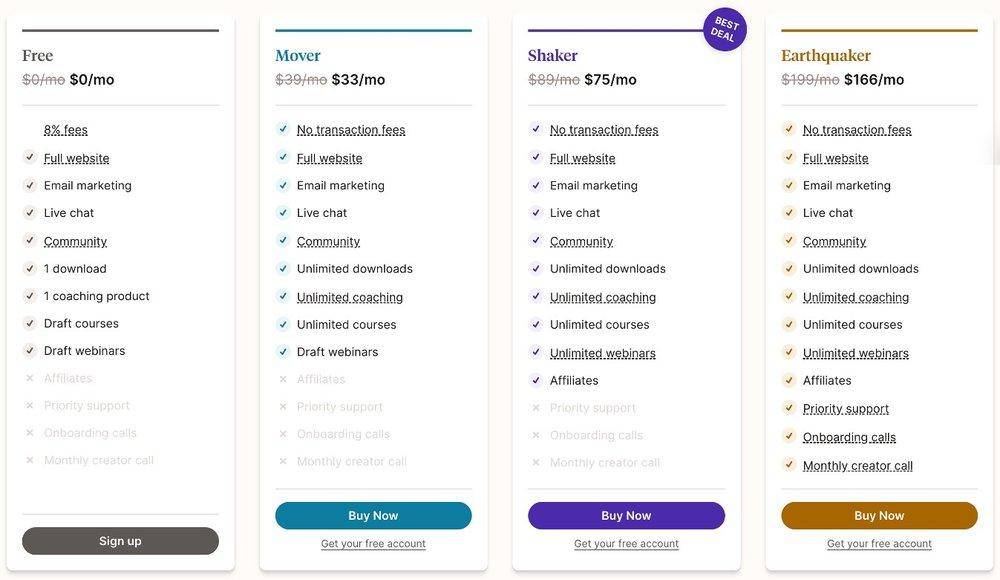 First I want to mention that Podia will migrate your content and customers for free when you choose the yearly subscription option, so keep that in mind when deciding what's right for you.
1. FREE PLAN
$0/month
8% Transaction Fees

1 Admin

1 Coaching Product

Membership options

Website

Limited Email Marketing

Only Stripe as the payment option
Podia's Free Plan is a great place to start if you know you want to build a membership as part of your online business because you get to access the options right away with unlimited members.
If you choose the free option there is a lot you can do here in order to learn the system and get everything set up before you jump in with a paid plan. You also get access to email campaigns which is great if you don't already use something like ConvertKit and want to keep everything in one place.
The downside here is you can only use Stripe, which isn't bad, but you don't have the PayPal option and you don't get access to analytics on the free plan. Plus, you'll be paying an 8% transaction fee for every sale if you stick to the free option.
2. MOVER PLAN
$39/month or $33/month if you pay yearly
No Transaction Fees

Everything from the Free Plan

Unlimited downloads

Unlimited coaching

Unlimited courses

Analytics

Custom domain

Coupons

Upsells
This is probably one of the best plans for a newbie who's looking to build online courses and memberships but who doesn't want to use a bunch of different platforms to do it and wants to keep things simple.
On the Mover Plan you'll have unlimited downloads, coaching options and courses as well as analytics, a custom domain and you can use coupons and upsells. Most other platforms have a lot of these options in higher price tiers. You'll also unlock a lot more options for email marketing and you can really build a thriving online business for a very reasonable monthly price.
The only downside to this plan is that you will still have the Podia branding and you won't get access to affiliate marketing, but really that's more advance anyway so this plan should be perfect for any newcomer.
3. SHAKER PLAN
$89/month or $75/month if you pay yearly
Everything from the first 2 plans

Course certificates

Affiliate marketing

Remove Podia Branding
If you're a little bit more advanced on your membership and course selling journey then this is probably the plan for you.
The big selling factor here is affiliate marketing for me. If you have great products and people love them then affiliate marketing is your best friend. Your community already wants to promote you if they love you, so why not give them a little something back as an incentive? Word of mouth is still one of the best sales tools out there.
4. EARTHQUAKER PLAN
$199/month or $166/month if you pay yearly
Priority Support

Onboarding calls

Monthly creator call
If you already have a huge online business and want to migrate over then Podia makes it pretty simple. They'll do all the heavy lifting for you. Plus you'll have priority support as well as other prime offers.
This is also a great option for any corporate training sites that need to be built and again you can keep everything simple in one place.

Overall, Podia may come up short in a few areas but I think for someone just getting into the online course creation and membership world that Podia is a great option with low costs and some really great tools.
I hope after reading this Podia review it's helped you to decide whether or not Podia is right for you as a creator and made things a little bit easier for you to move forward in building your online business.
You can also check out my resources page for more business tools to help you build a successful online business.