Calan Breckon • Updated July 19, 2023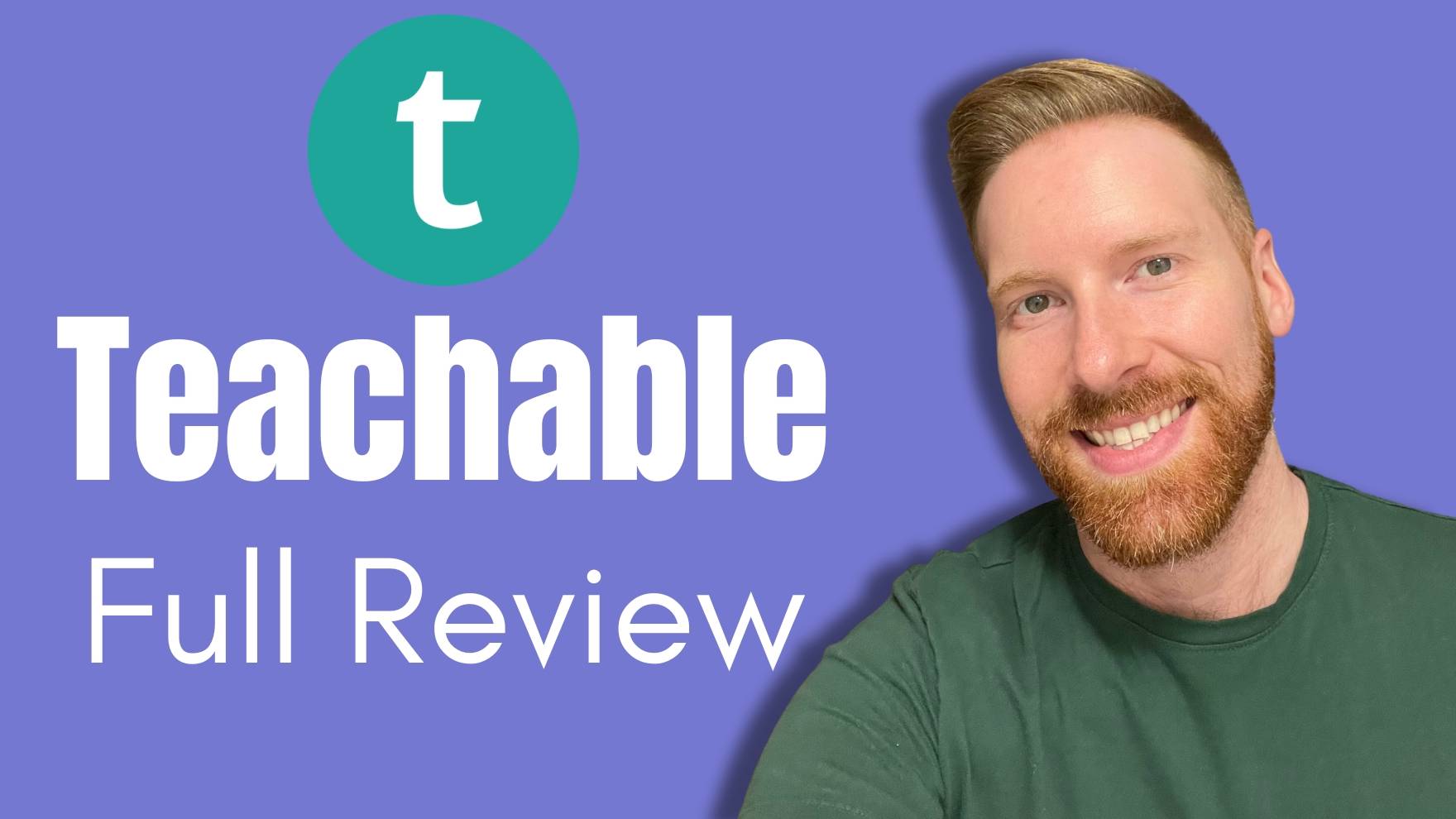 Have you ever dreamed of sharing your knowledge with the world and earning an income from it? You're in the right place! In this blog post, we'll explore Teachable, a platform that has empowered thousands of people to create and sell online courses with ease.
If you're looking to make money online selling courses then choosing the right platform is critical to your success. Each platform offers its own set of great tools and today we're diving into what Teachable can (and can't) offer you as a content creator.
Let's get into it.
Create engaging online courses with Teachable: user-friendly interface, customization options & diverse content types.
Choose a plan and create your school to start building your brand & attracting students.
Leverage tracking features, engage with students & use third party integrations to manage and grow your course business.
Why choose teachable for your online course?

When it comes to creating and selling online courses, Teachable stands out as one of the best platforms available. With over 100,000 course creators and over 37 million students enrolled, Teachable has proven itself as a reliable and popular choice for aspiring and experienced course creators alike. But what makes Teachable so special?
Teachable was founded in 2013 by Ankur Nagpal with a clear mission: to empower course creators to transform their knowledge and skills into online classes. And they've done just that! Teachable offers an all-in-one platform with built-in features that make it easy for anyone to create, manage, and sell online courses, regardless of their tech skills. From custom domain names and unlimited courses to handling VAT collection and tax filings for course creators, Teachable has it all covered.
Who should use Teachable?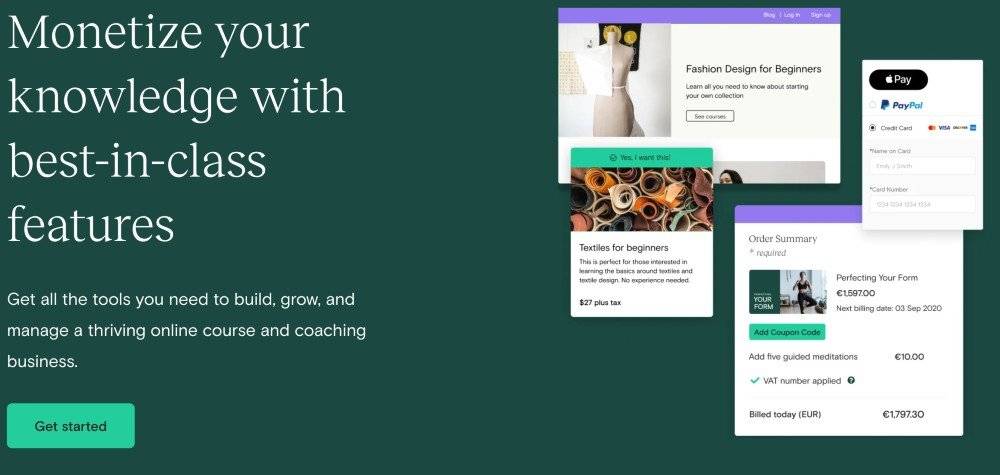 Teachable is a great course-creating platform that also offers the option to branch out into creating a membership experience.
If you're any type of content creator, you can create a course. If you have a following, even better because you're already ahead of the game.
Here is a few examples of people/industries that course creation is perfect for:
Coaches

Personal Trainers

Teachers

Yoga Instructors

Influencers

Authors

Bloggers

Speakers

Experts

HR Support hub
The list goes on and on but I think you get the picture.
Bottom line, if you have the knowledge and a desire to create a course, then you can use Teachable to do it.
One of the reasons why Teachable is loved by course creators is its user-friendly interface. Its all-in-one platform provides everything you need to create and manage your online courses, sell them to customers, and customize the course design. This means you don't have to worry about dealing with multiple tools or platforms – everything is right there at your fingertips.
Teachable offers a range of built-in features that make the process of creating teachable courses even more straightforward. With its drag-and-drop website builder, custom landing pages, and discounts and promotions, even those with minimal tech skills can create professional-looking courses in no time. The platform is designed to be easy to navigate and use, allowing course creators to focus on what they do best – sharing their knowledge and expertise with the world.
Teachable understands that every course creator has their unique style and brand. That's why they offer a variety of customization options to help you create a course that truly reflects your identity. With Teachable's page builder, you can design a custom sales page that matches your brand and showcases your course in the best possible light. You can even choose from various course templates and themes to ensure your course aligns with your topic and brand.
If you want to take your branding to the next level, Teachable offers the option to set up a custom domain for your course. This not only makes your course website easy to remember for potential students, but also helps build trust in your brand. With these customization options, Teachable empowers you to create a unique and engaging online course that stands out from the competition.
A great online course should cater to different learning styles and preferences. That's why Teachable supports a wide range of content types, including video, audio, text, quizzes, and more. This allows you to create a rich and engaging learning experience for your students, ensuring they get the most out of your course.
From in-depth video lectures to interactive quizzes, Teachable has everything you need to create an immersive and comprehensive online course that your students will love. As the best online course platform, Teachable ensures a seamless learning experience for both educators and students on this online course platform.
Setting up your teachable account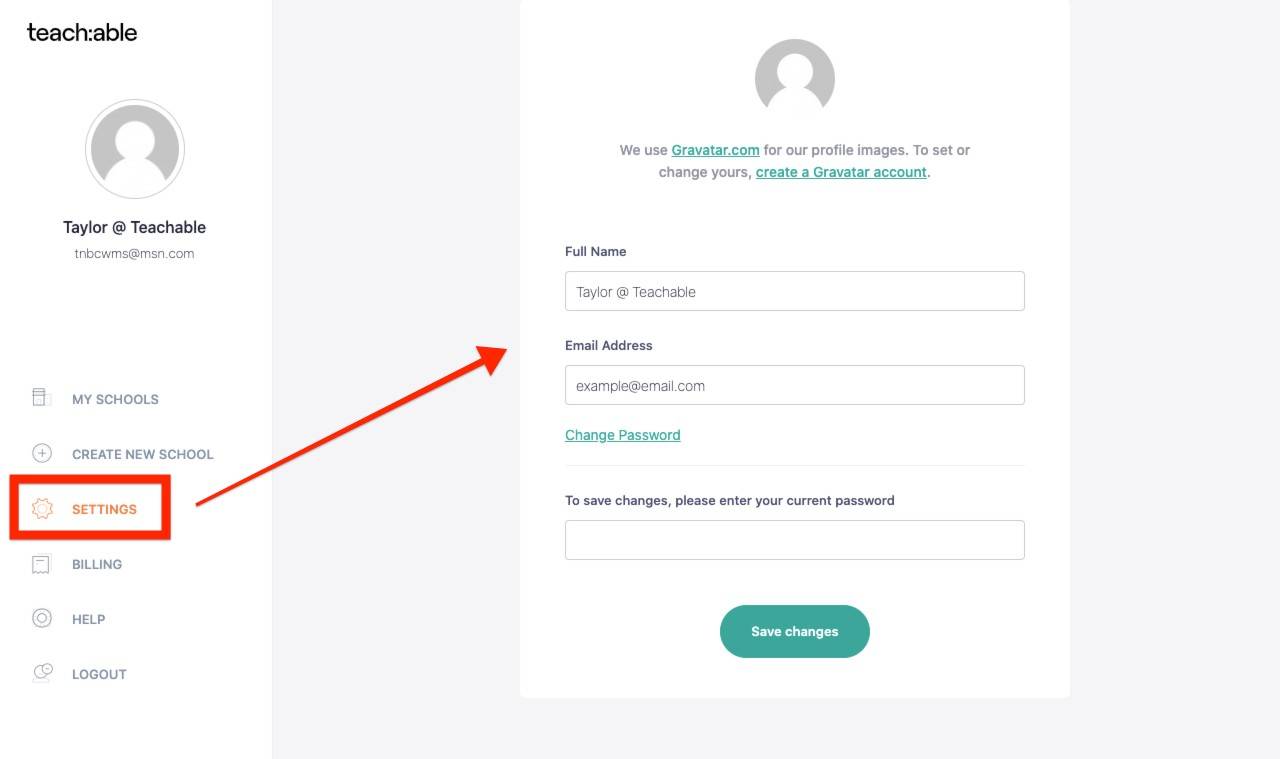 Now you know why Teachable is such a fantastic platform let's walk you through the process of setting up your Teachable account. The journey to creating your online course begins with choosing a plan, creating your school, and customizing your profile. Each of these steps is crucial in establishing your brand, showcasing your expertise, and attracting potential students to your courses.
When you choose a plan, you can select from a variety of options that fit your budget.
Once you've chosen your plan, it's time to create your Teachable school. This is where you'll set up your custom domain, add branding elements, and configure the basic settings for your courses. Creating your school is a crucial step in establishing your online presence and making it easy for potential students to find and enroll in your courses.
With Teachable, setting up your school is a breeze, and you'll be well on your way to sharing your knowledge with the world.
Your Teachable profile is the face of your online courses. Customizing your profile by adding a profile picture, changing your name, email address, and connecting multiple school accounts helps establish your brand and credibility. The more professional and engaging your profile looks, the more likely potential students will trust you and enroll in your courses.
So take the time to make your profile shine and showcase your expertise to the world.
Building your first teachable course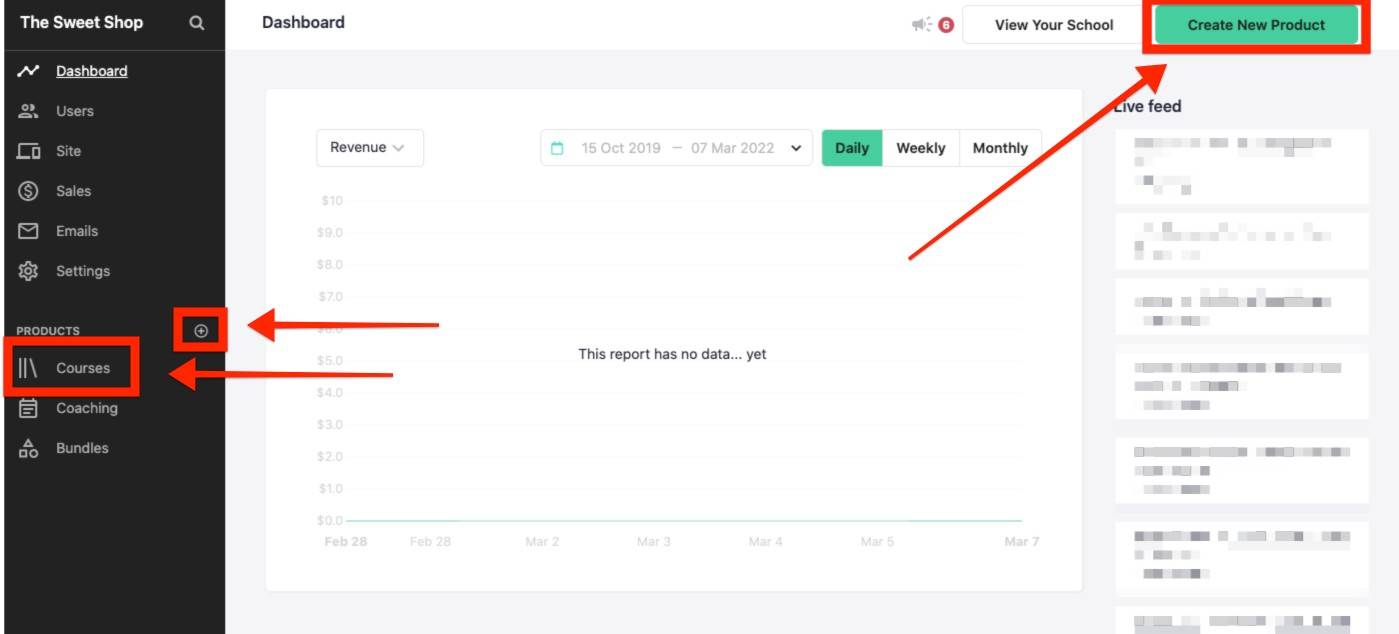 You've set up your Teachable account, and now it's time to bring your course to life. Building a Teachable course involves designing the course curriculum, customizing the course appearance, and setting up pricing and promotional strategies.
In this section, we'll guide you through each of these steps to help you create a successful and engaging online course, starting with the crucial first course, that attracts students and generates sales by effectively selling courses.
Designing your course curriculum
The first step in creating your Teachable course is designing an engaging and comprehensive course curriculum. This involves organizing your course content, including course material, into sections and lectures, ensuring easy navigation and a clear structure for your students.
Teachable supports various content types, such as video, audio, text, quizzes, and more, allowing you to create a rich learning experience that caters to different learning styles and preferences.
In addition to providing diverse content types, Teachable also offers a range of course templates to help you structure your course effectively. These templates serve as a starting point for your course design, helping you create a professional and engaging curriculum that keeps your students interested and motivated from start to finish. With Teachable's user-friendly course builder, designing a captivating course curriculum has never been easier.
If you're looking for more in-depth help with this you may consider looking into taking Amy Porterfield's Digital Course Academy. She is the Queen when it comes to online courses and it's where I learned everything about how to create and launch a successful online course.
Customizing course appearance
Once you've designed your course curriculum, it's essential to focus on the appearance of your course. A visually appealing course not only attracts potential students, but also enhances the learning experience. Teachable offers a variety of customization options, including themes, colors, fonts, and branding elements, to help you create a course that reflects your unique style and brand.
With Teachable's customization tools, you can create a visually stunning course that stands out from the competition and keeps your students engaged throughout their learning journey.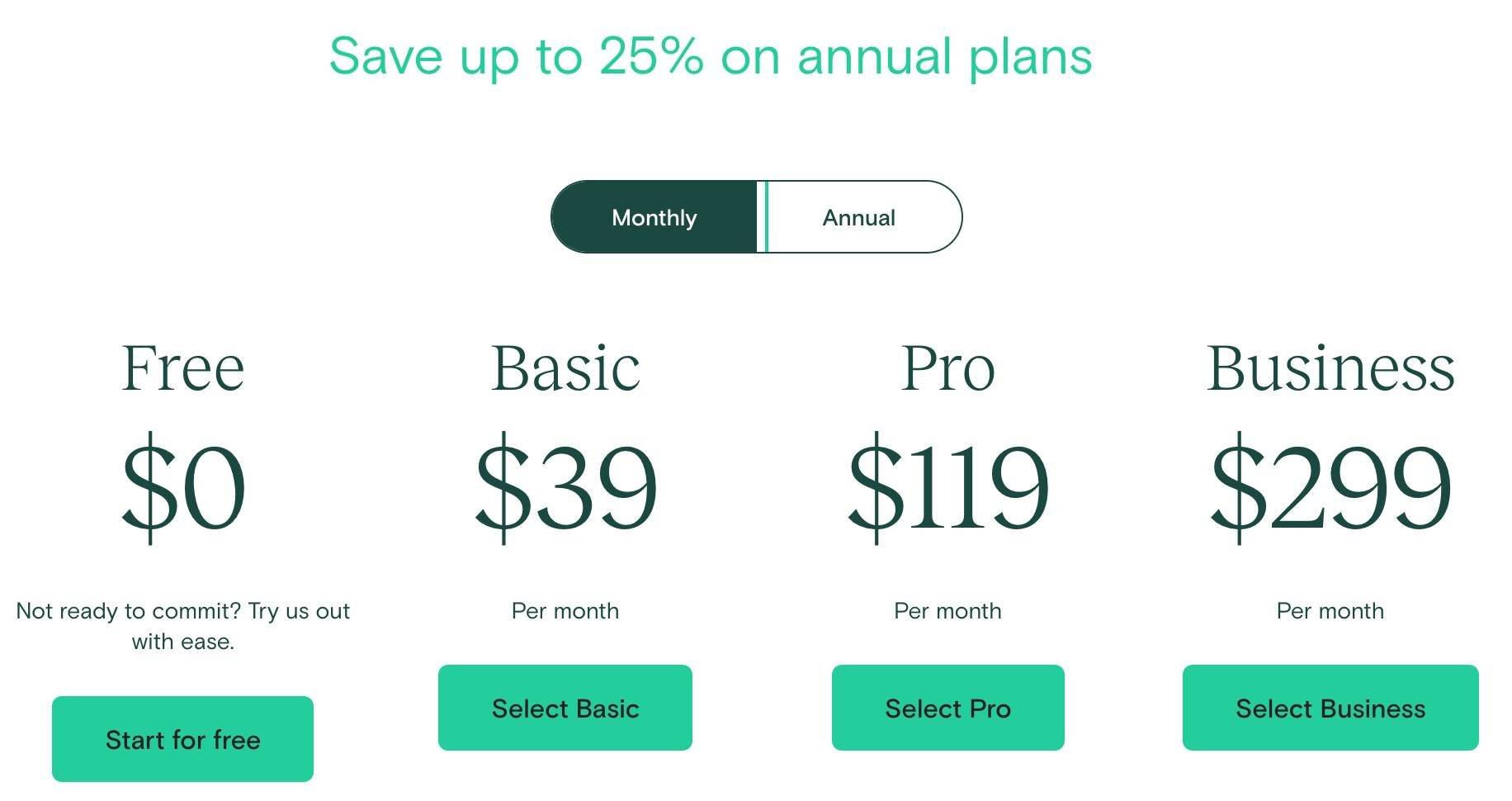 1. FREE PLAN
$0/month
$1+10% Transaction fees

1 Admin

1 Course

No Membership Option
Teachable offers a free option to host one course on its platform for a small fee. This is fine if you're looking to only start off on the free plan, build your course, and then move up to a paid plan once you have everything set up. If you only want to host a free course, I'd suggest checking out Thinkific because they offer to host more than one free course and they don't charge any transaction fees to do so. You can read more on my comparison of the best 7 platforms.
2. BASIC PLAN
$39/month Or $348/year (if billed annually)
5% Transaction Fees

2 Admin

Unlimited Courses

Custom Domain

Email Marketing

Membership Option
If you're going for a paid option after you build your course then Teachables Basic Plan is a great option. There are still transaction fees but you get unlimited courses, email marketing (if you don't already use something like ConvertKit), and access to their Communities options which you don't get on Thinkifics basic plan which makes this a great option for building a membership as well.
3. PRO PLAN
$119/month Or $1188/year (if billed annually)
0% Transaction Fees

5 Admin

Everything from the Basic Plan

Affiliate marketing

Live Group Coaching
If you plan on hosting a few online courses as well as a membership then it will eventually make sense to move up to the Pro Plan because those transaction fees will add up over time and that's money that could be going into your pocket instead of Teachables. I'd say once you're making more than a few hundred dollars a month you should move up to this plan simply to save on that 5% transaction fee from the basic plan.
You also get access to the affiliate marketing option on this plan which is pretty great for marketing. You can ask your students and members to share your program and in exchange, they'll get a little kickback from it. This can really help build your membership as word-of-mouth marketing is golden and it also adds more reason for those already in your programs to stay longer.
You also have the live group coaching option so you can avoid paying for something like Zoom if you have this plan, which also saves you money.
4. BUSINESS PLAN
$299/month Or $2988/year (if billed annually)
0% Transaction Fees

20 Admin

Everything from the first plans plus more
Not much needs to be said about this plan. If you're already well established, have a massive following or have a corporate reason for creating courses or a membership then this is the plan for you as it offers the most options with the best support from the company.
Enhancing the student experience on teachable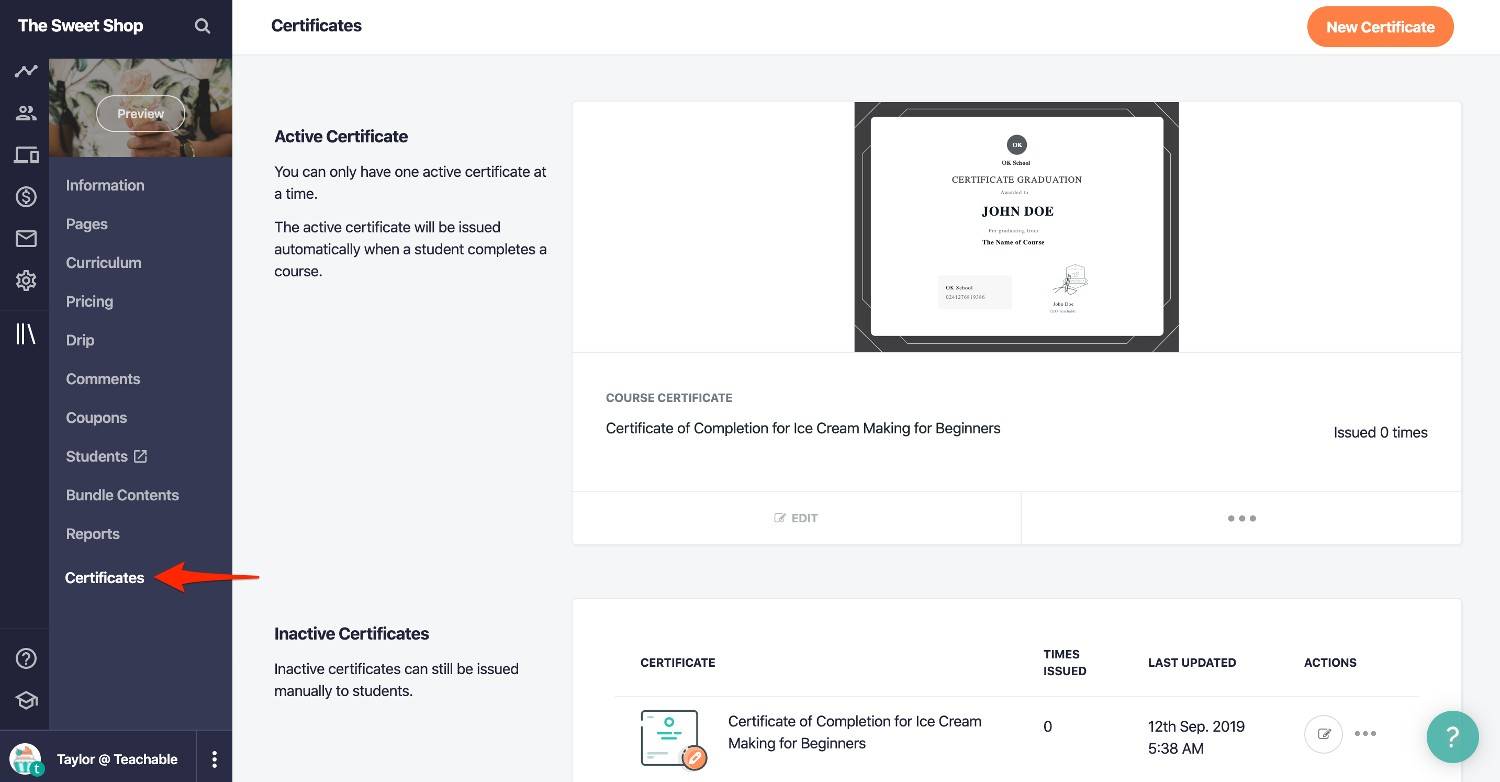 Creating an engaging and successful online course doesn't end with building the course itself. For aspiring course creators, it's also essential to focus on enhancing the student experience, ensuring that students remain engaged and motivated throughout their learning journey.
Teachable offers a range of features and tools, such as drip content, quizzes and assessments, and course completion certificates, to help you create a supportive and enriching learning environment for your students.
Drip content is a powerful feature on Teachable that allows you to release course content gradually over time, rather than all at once. This helps students pace their learning and prevents them from feeling overwhelmed by too much content at once.
With Teachable's drip content feature, you can control the release of course content based on specific dates or intervals, ensuring that students have ample time to digest the material and apply their learning before moving on to the next lesson.
Quizzes and assessments are essential components of any online course, as they help gauge student understanding and provide valuable feedback for both students and instructors. Teachable offers basic quizzes with multiple choice questions that are automatically graded by the system, allowing you to assess student performance quickly and efficiently.
By incorporating quizzes and assessments into your Teachable course, you can ensure that students are on track with their learning and provide additional support and resources as needed.
Course completion certificates
Course completion certificates provide students with a sense of accomplishment and validation upon successfully completing a course. Teachable offers digital course completion certificates that students can download as a PDF, serving as proof of their achievement.
By offering course completion certificates, you not only celebrate your students' accomplishments, but also encourage them to continue their learning journey and explore other courses you may offer.
Managing and growing your teachable school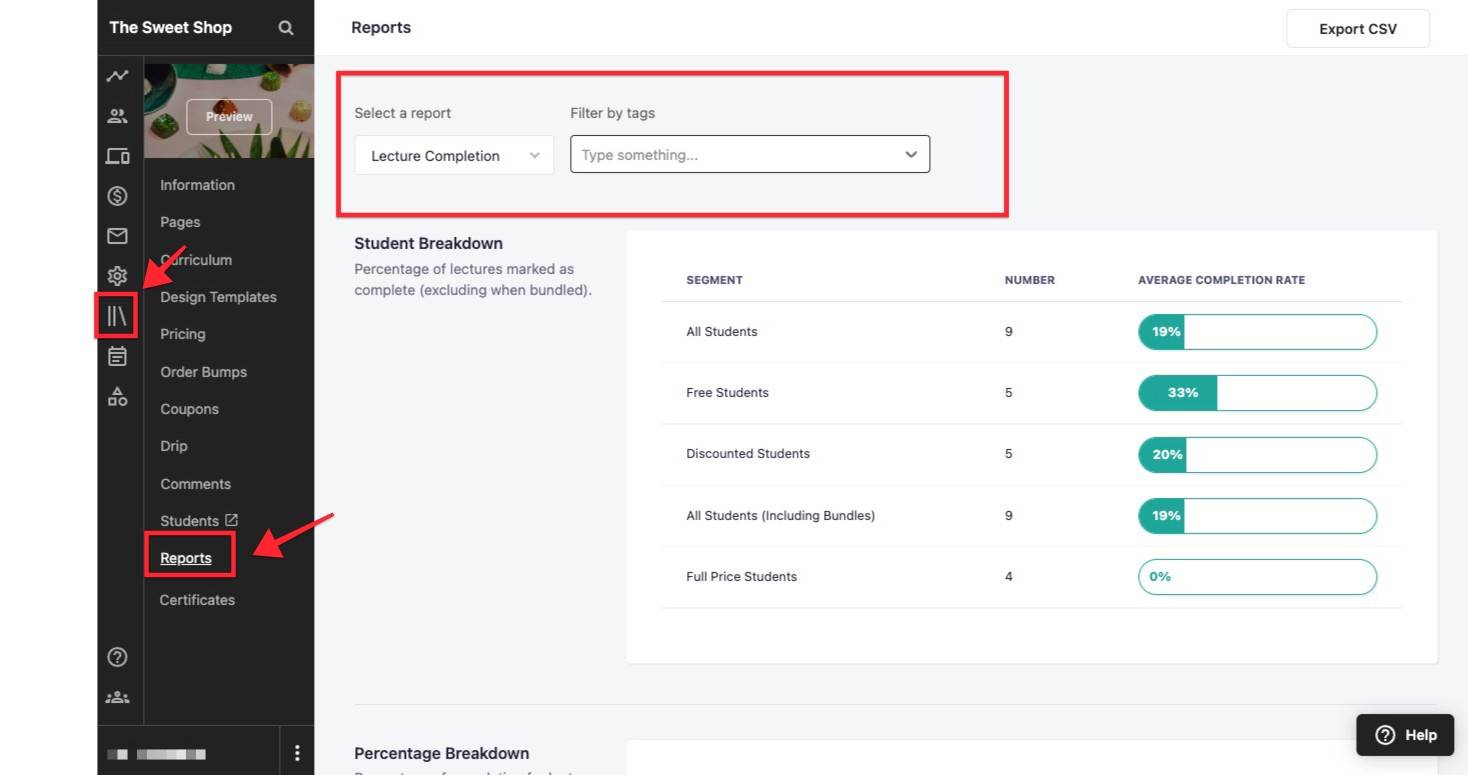 As your Teachable school grows and evolves, it's essential to have the tools and resources to manage and scale your online course business effectively. In this section, we'll explore how Teachable helps you track student progress, engage with students, and leverage third-party integrations to enhance the overall experience for both you and your students.
Teachable provides a suite of features to help you manage your school. You can track student progress.
Tracking student progress
Teachable provides a range of tools and features that help you track student progress and performance, such as progress reports, lecture completion, video stats, quiz scores, and leaderboards. By keeping an eye on student progress, you can identify areas where students may need additional support or resources and adjust your course content accordingly.
With Teachable's tracking features, you can ensure that your students are on track and getting the most out of your online course.
Engaging with students is an essential aspect of creating a supportive and enriching learning environment. Teachable offers various ways to interact with your students, such as comments, discussions, and email communication.
By fostering a sense of community and support, you can help your students feel more confident in their learning journey and encourage them to complete your course successfully.
Teachable's third-party integrations, such as email marketing tools and analytics platforms, can help you streamline your processes and gain valuable insights into your school's performance. By integrating with platforms like ConvertKit, ActiveCampaign, AWeber, MailChimp, and MailerLite, you can engage with your students more effectively, promote your courses, and track your school's performance over time.
With Teachable's third-party integrations, you can manage and grow your online course business more efficiently and effectively.

One of the best features of Teachable is its option for affiliate marketing on some of its paid plans. In the grand scheme of things, marketing is made so much easier when others do it for you. Being able to offer your students or members the option to make a little back if they refer someone to your course or program can mean much more money in your pocket and less spent on advertising.
Teachable makes it super easy for anyone to get started, no coding experience is needed. The course building is fairly intuitive and after a little while, you should have the hang of it. It has a decent amount of options for customization and any beginner can make an amazing looking course.
There are a good amount of tools that Teachable offers in regards to marketing that make it a great one-stop shop for someone looking to have everything in one place. From creating upsells and custom checkout pages to easy-to-create landing pages and coupons, Teachable has a lot to offer.
Analytics is kind of a big deal when it comes to online course creation and marketing. You need to be able to know if people are actually enjoying and using your content or not. This goes hand in hand with the marketing tools they offer so you'll be able to see if that coupon is working or if your landing page needs some tweaks.

This only applies if you're looking at the free plan, but it can take up to 30 days to receive your payouts when working with Teachable. If you're on a paid plan then this won't be an issue but it's something to consider if you're only looking at hosting a course using the free option.
On the free plan and the basic plan you're going to be paying transaction fees, which isn't ideal because they can add up to big money lost. On the free plan, you'll pay a $1+10% fee and on the basic plan, you'll be paying a 5% fee for each transaction.
Teachable doesn't exactly play nice with everyone else when it comes to integrations. They've built an amazing platform for someone who wants everything in one place, but for those who want to use outside programs like ConvertKit for email and Stripe for payments, it's not ideal unless you're on a higher payment plan.
Customization/White Labeling
When it comes to overall customization, Teachable falls a little short. They do offer some great features but sadly they are still lacking in the customization field. For those that don't know what white labeling is, it's when you can make a website look like it's hosted by your website. With Teachable, this hasn't been perfected. There is always some Teachable URL in spots that you wish didn't exist which is less than ideal when you're trying to make everything look like it's hosted on your own website.
In conclusion, Teachable is a powerful and user-friendly platform that enables course creators to share their knowledge and expertise with the world.
With its comprehensive feature set, customizable options, and diverse content types, Teachable is the ideal choice for both aspiring and experienced course creators. It's time to turn your passion and knowledge into a profitable online course – start your Teachable journey today and watch your online course business soar!
You can also check out my resources page for more business tools to help you build a successful online business.
Frequently Asked Questions
Can you really make money on Teachable?
Yes, you can make money on Teachable; many creators earn between $1,000 to $10,000 monthly selling 10-30 courses. Teachable has seen it in action, with thousands of creators making millions each year launching courses.
What is Teachable used for?
Teachable is a cloud-based learning management solution that allows users to create and share online courses with audio, video, images, text and PDF files. It helps creators engage their online audiences and get paid on their own terms with courses, coaching, and downloadable content.
Teachable provides a platform for creators to easily create and manage their online courses. It offers a range of features such as course creation, course hosting, course marketing, and course analytics. It also provides tools for creating quizzes, surveys, and more.
How much percentage does Teachable take?
Teachable takes 5% transaction fees on their Basic plan, $1+10% transaction fees for the Free plan, and 0% transaction fees for Pro and Business plans.
They also charge processing fees ranging from 2.9% + $0.30 to 4.99% + $0.49.
Is it free to make a course on Teachable?
Making courses on Teachable is free; however, you will have to pay a $1 fee plus 10% of the course price if you choose to offer paid courses.
You can also use the Teachable BackOffice program, which pays out authors and affiliates, even with a free trial.
Is teaching on Teachable worth it?
Yes, Teachable is a legit platform to create and sell courses with a lot of helpful online learning features, but it does have some limits.
So if you're looking for an all-in-one learning management system, Teachable might not be your best bet.