Calan Breckon • Published May 25, 2023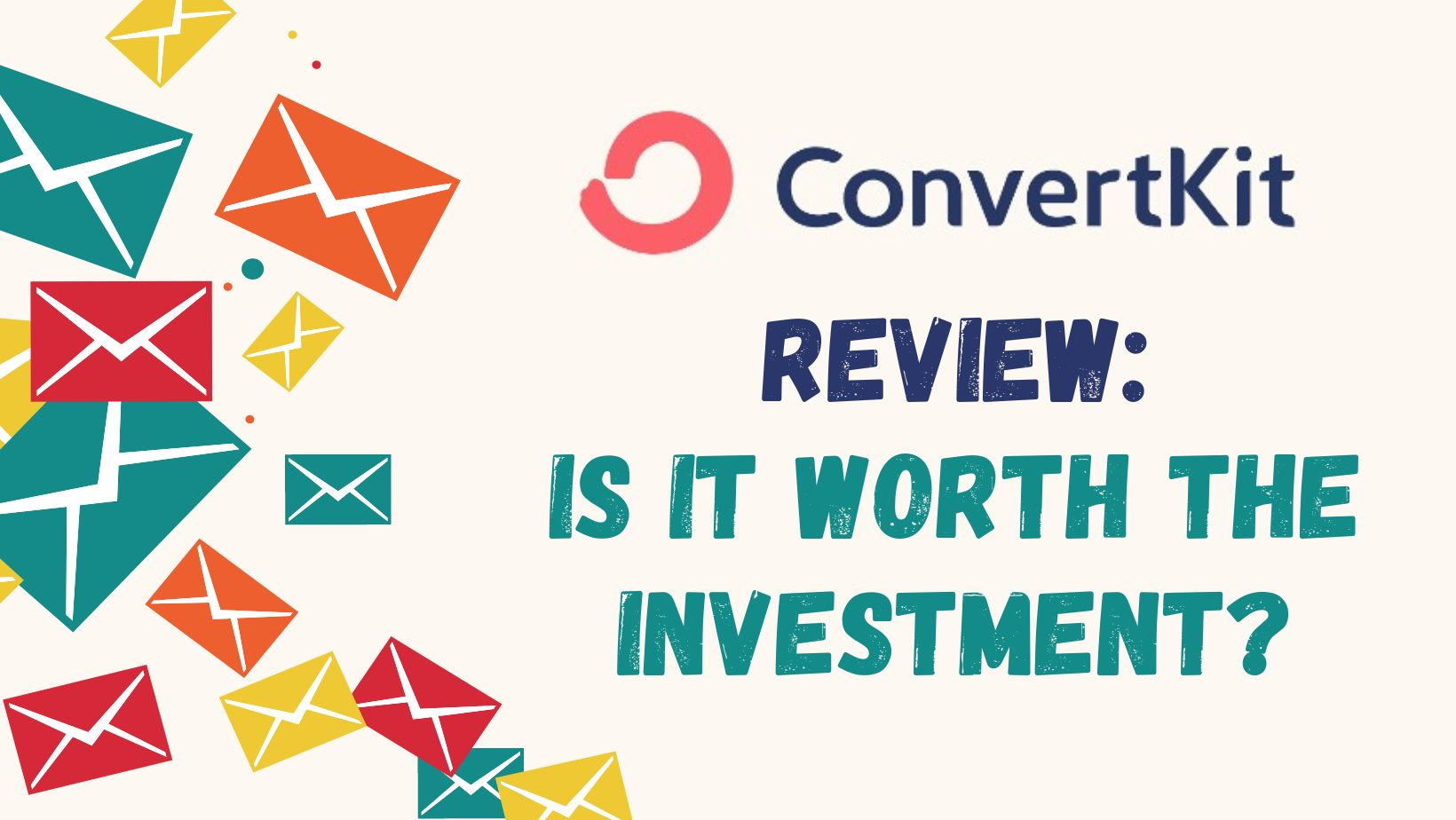 Are you tired of endlessly searching for the perfect email marketing tool to boost your online presence? Look no further!
ConvertKit is here to revolutionize your email marketing game. In this comprehensive ConvertKit review, we'll dive deep into the world of ConvertKit, exploring its purpose, pricing, features, and how it stacks up against its competitors.
Let's get started on this exciting journey!
Short Summary:
Enjoy amazing features, pricing plans starting at $29/month, powerful integrations & performance metrics with 99.8% deliverability & 42% open rates
Compare it to Mailchimp and ActiveCampaign, find out which one is right for you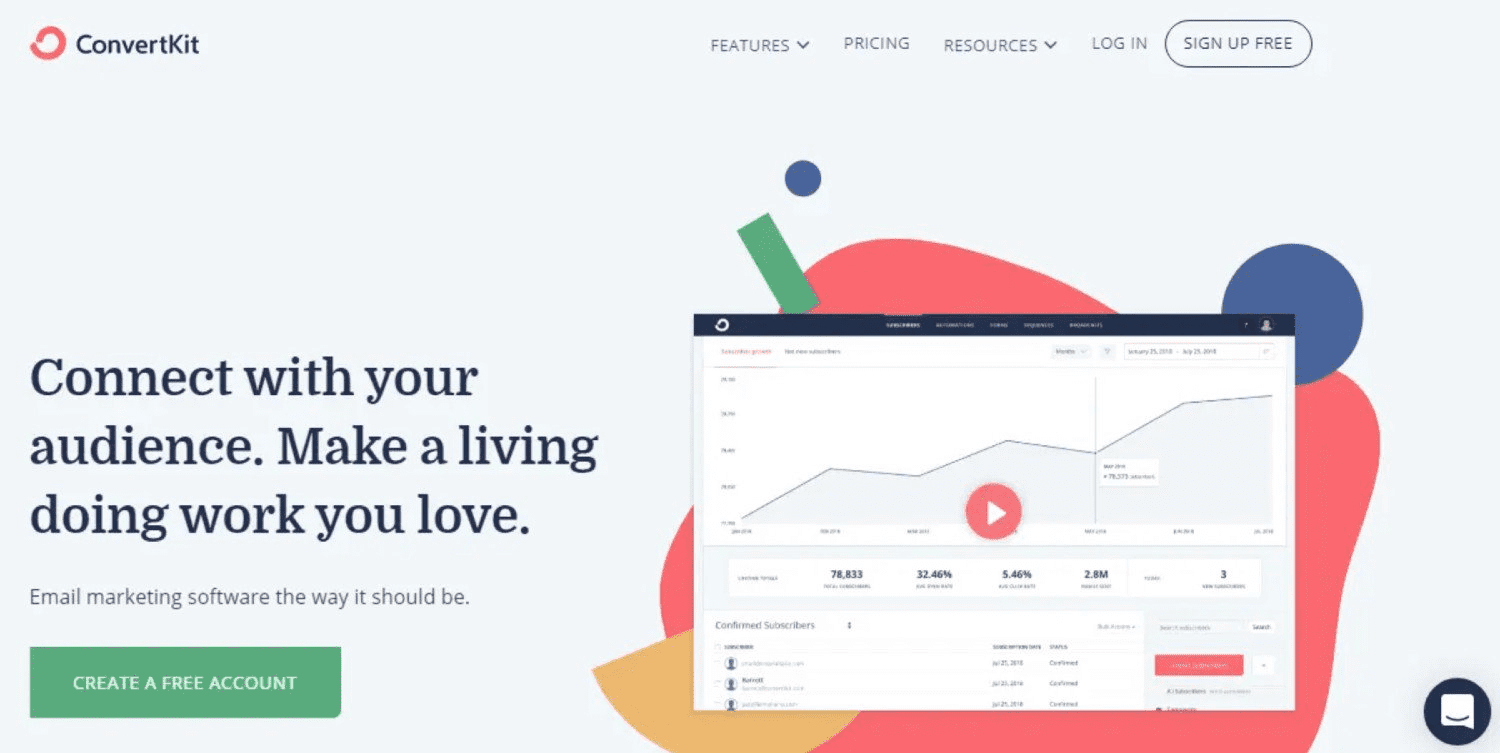 ConvertKit is a game-changing platform designed specifically for creators, bloggers, and small businesses.
Founded by Nathan Barry in 2013, ConvertKit has quickly become a go-to solution for content creators looking to grow their email lists and sell digital products.
With a free plan for up to 1,000 subscribers and paid plans starting at just $29 per month, ConvertKit is ready to help you skyrocket your marketing efforts.
Target Audience
ConvertKit was designed with digital content creators in mind, such as bloggers, online course creators, and YouTubers.
Its simplicity and focus on marketing make it an ideal platform for creators who want to grow their audience and monetize their content.
However, it may not be the best fit for those managing multiple businesses with distinct lists or beginners on a tight budget.
Purpose and Goals
The ultimate goal of ConvertKit is to streamline the process of growing your email list, reaching tens of thousands of subscribers, and ultimately, increasing your revenue.
It's an excellent platform for creators who want to send personal-looking emails, leverage robust automation capabilities, and easily sell digital products or subscriptions.
ConvertKit Pricing Breakdown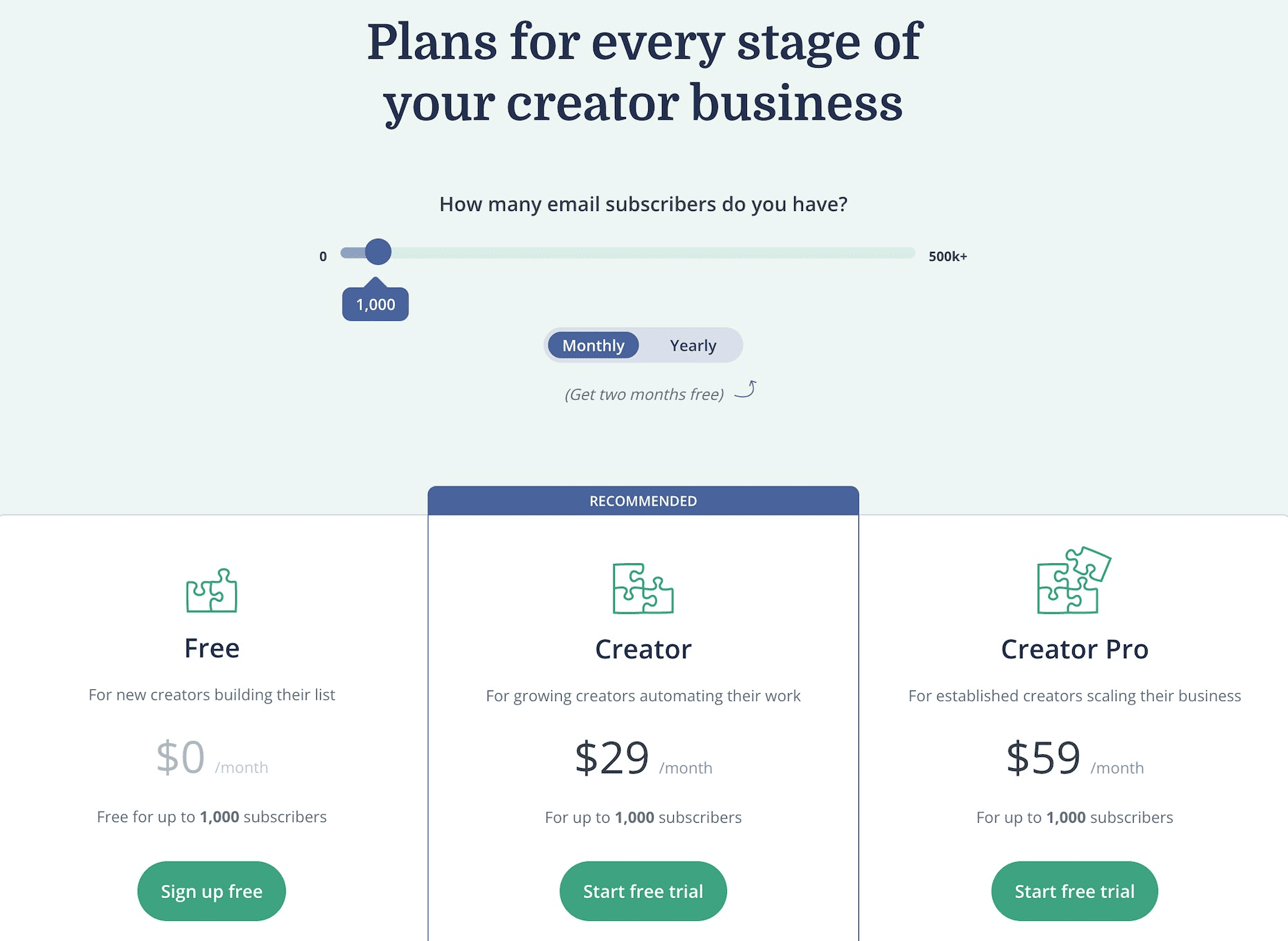 ConvertKit pricing offers three exciting plans: the Free Plan, the Creator Plan, and the Creator Pro Plan.
Each plan comes with a unique set of features designed to cater to different needs and budgets.
Pricing depends on the number of email subscribers, with the Creator Plan starting at $29 per month and the Creator Pro Plan at $59 per month.
Free migration services are also available for those making the switch to ConvertKit. Let's delve into each plan and uncover the amazing features they offer.
The Free Plan (aka free version) is perfect for those starting their email marketing journey.
It includes unlimited landing pages, forms, and emails, audience tagging and segmentation, and the ability to sell products and subscriptions.
Plus, you'll have access to amazing community support, all without spending a dime.
However, it doesn't include a free migration service, transaction fees for selling products, or access to the Creator or Creator Pro plans.
The Creator Plan, priced at $29 per month for up to 1,000 subscribers, is the ideal solution for most small-to-medium online businesses.
This plan offers an impressive array of features such as email automation, landing pages, forms, and more.
The email automation in this plan is a MUST have if you want to create any kind of system that saves you time. Without it, you'll have to send every email one by one.
So, if you want to create a welcome nurture sequence for new sign-ups you'll need to go with this plan.
With the Creator Plan, you'll have access to all the essential tools needed to supercharge your marketing strategy.
For those looking for advanced functionality and premium support, the Creator Pro Plan is the way to go.
Starting at $59 per month for up to 1,000 subscribers, this plan includes everything in the Creator Plan, plus a newsletter referral system, subscriber scoring, and advanced reporting.
These powerful features will help you better understand your audience, optimize your campaigns, and drive even more growth for your business.
If you're just starting out then you will probably be good to go with the creator plan and eventually, you can upgrade to the pro plan if you want.
Key Features and Functionality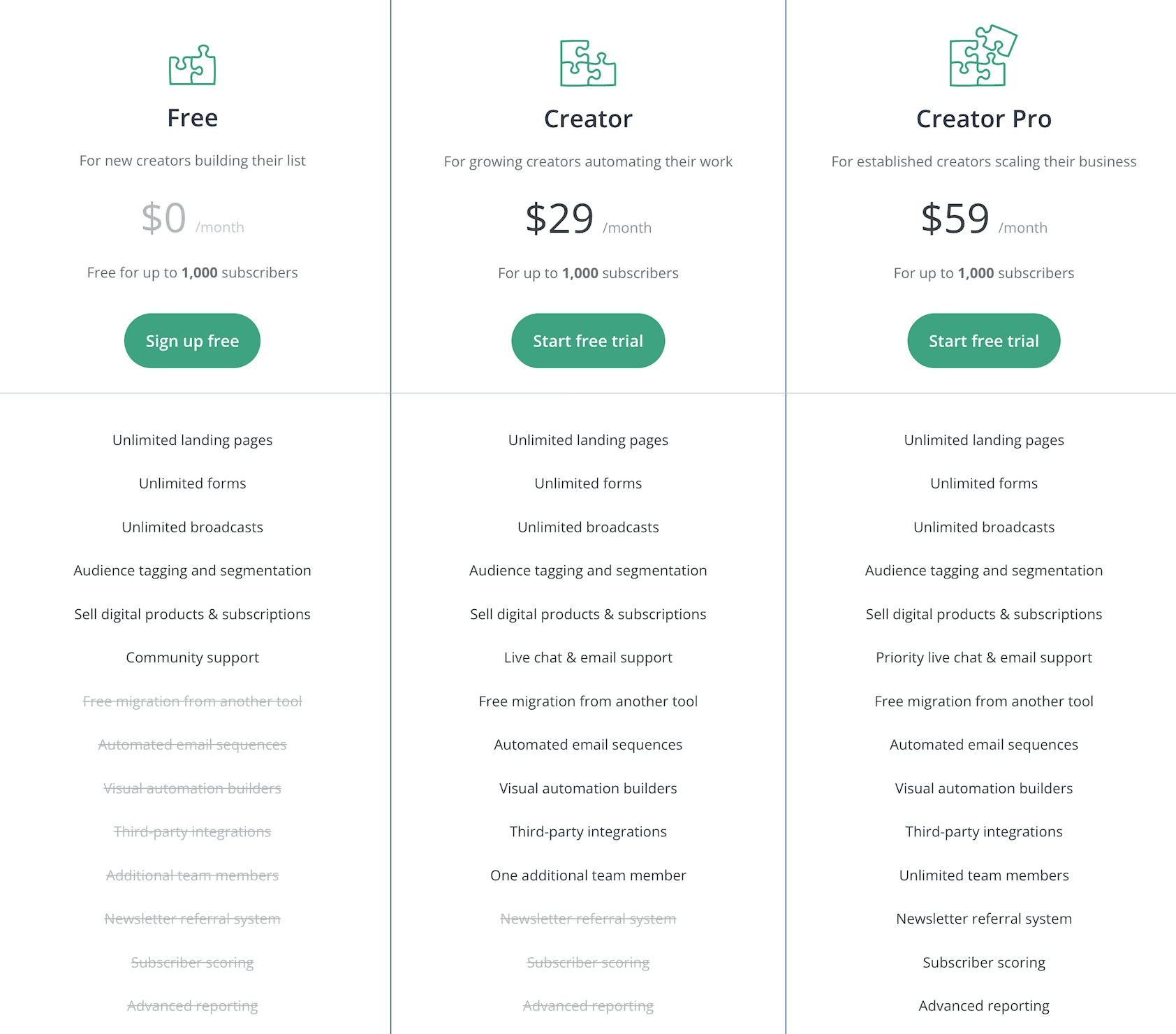 ConvertKit boasts an impressive range of email marketing tools, including an email editor with 25 plain-text templates, automation and sequences, landing pages and forms, and eCommerce integrations.
This powerful combination of tools will help you create engaging emails, automate your marketing processes, and ultimately, increase your revenue.
Let's take a closer look at these game-changing features and what they can do for your business.
Email Editor and Templates

ConvertKit's email editor is straightforward and easy to use, focusing on plain-text emails that are proven to be more effective.
It offers 25 plain-text templates that are perfect for creating simple, personal-looking emails.
Although it lacks the bells and whistles of a drag-and-drop editor, ConvertKit's email editor is fast and efficient, making it perfect for those who want to send emails that look and feel like regular work emails.
You can even import custom HTML email templates if you prefer a more personalized design.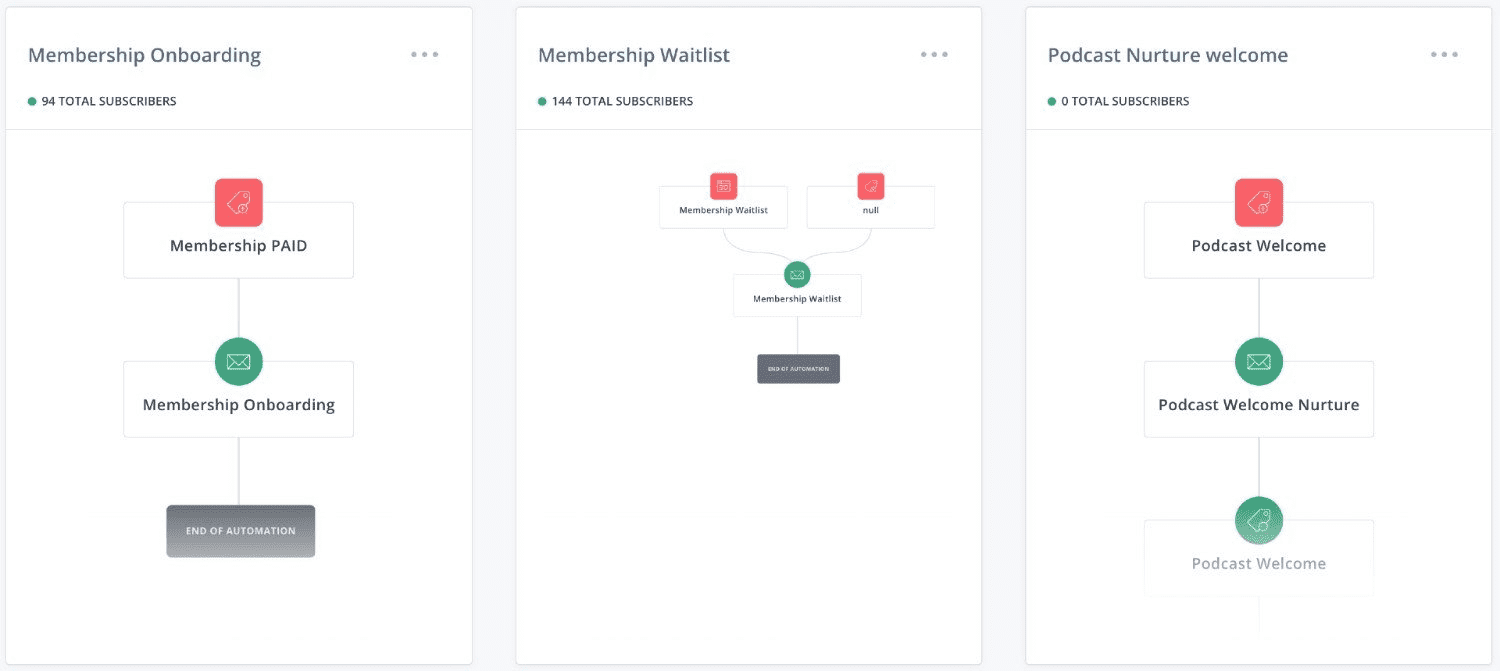 ConvertKit's automation and sequences are designed to help you streamline your marketing process and scale your business effortlessly.
Its visual automation builder is incredibly intuitive, allowing you to set triggers and rules for your email sequences.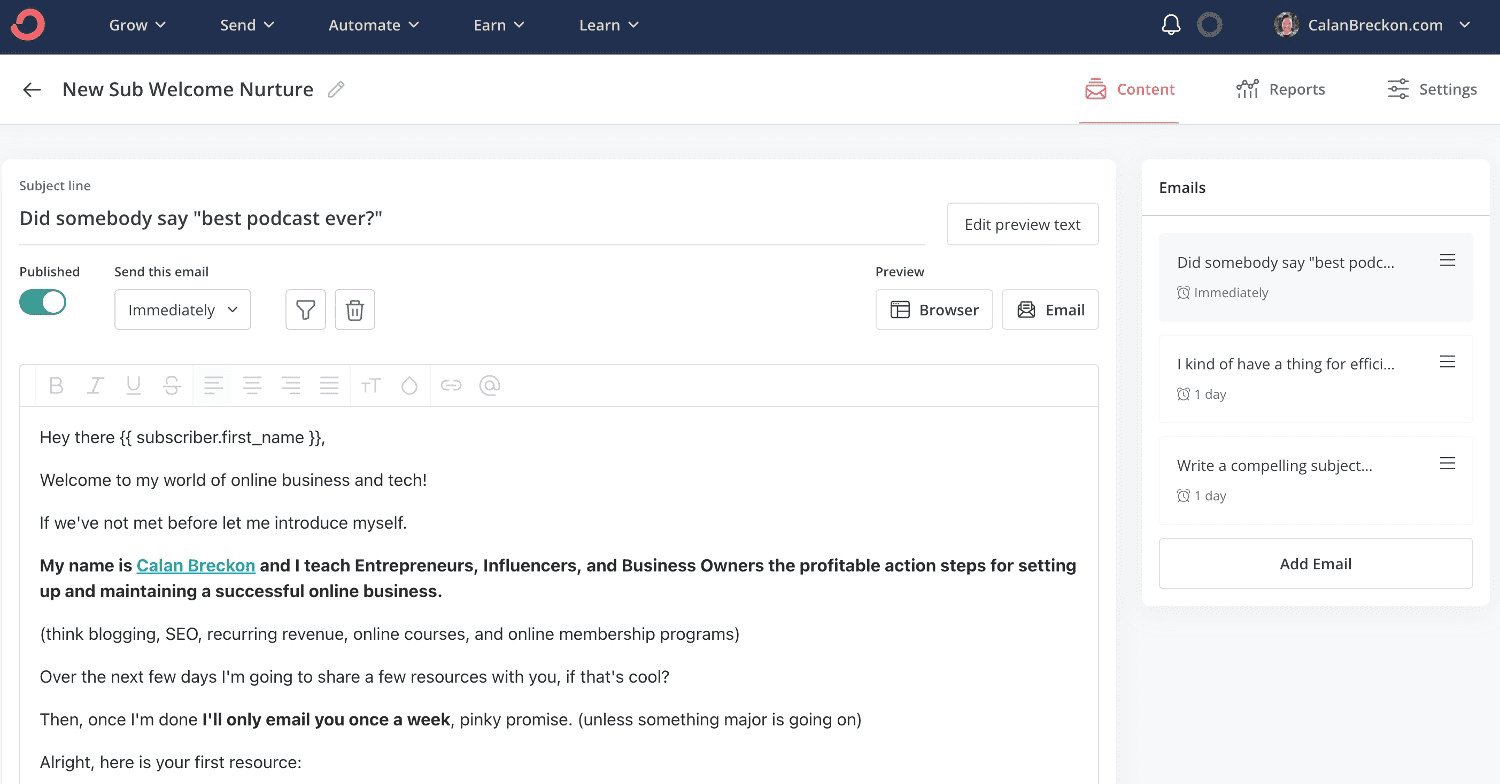 You can also choose from pre-built automation templates or create your own from scratch.
The sequence editor lets you set subscriber exclusions based on certain characteristics like specific tags or segments, giving you complete control over your marketing strategy.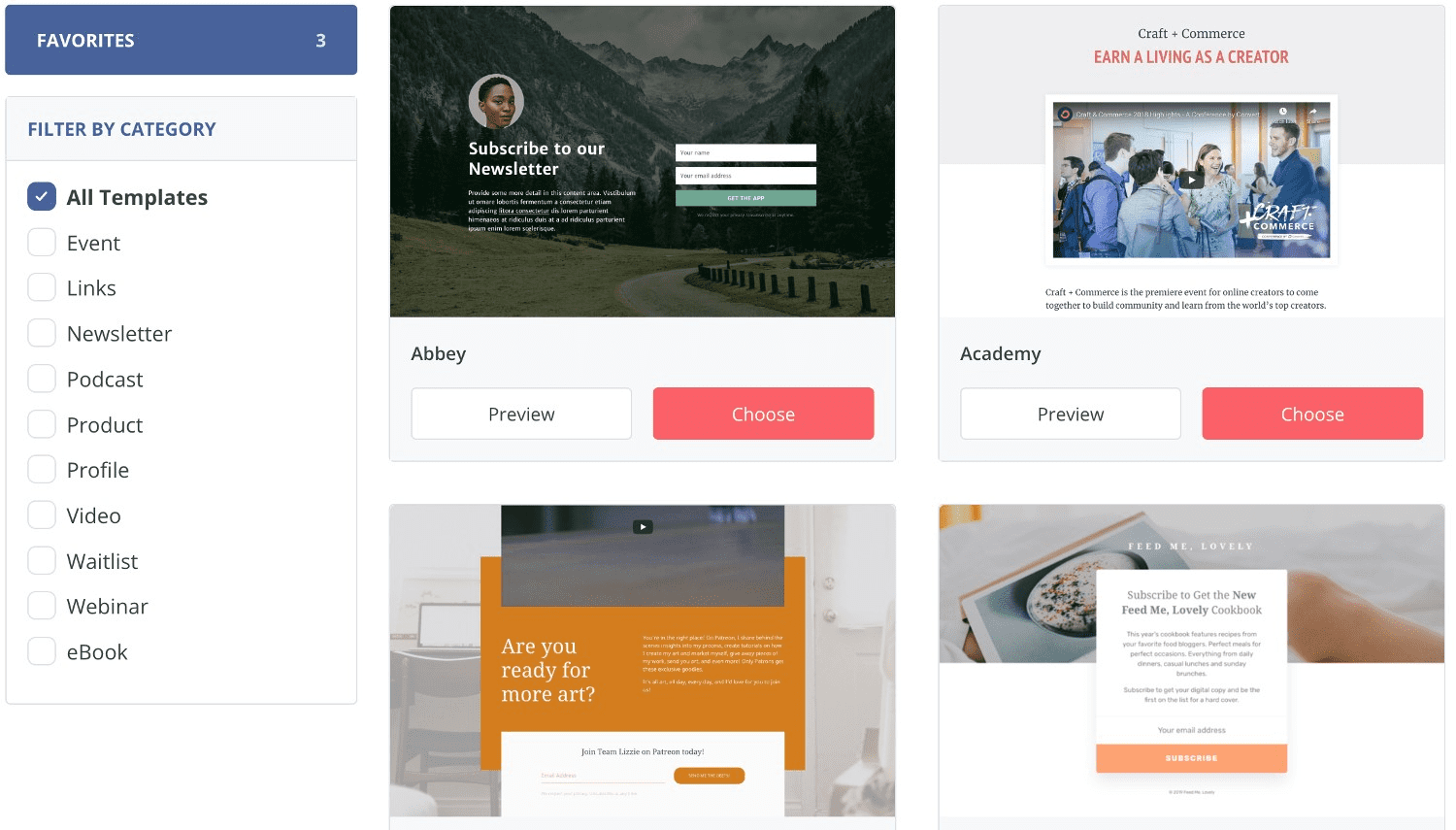 With over 40 customizable landing page templates and an easy-to-use editor, ConvertKit makes it simple to create stunning landing pages that capture emails and drive conversions.
You can create a personalized domain for your landing pages. This feature is available on both free and paid plans.
Different content offers can be assigned to specific landing pages or forms, allowing you to offer valuable resources to your audience in exchange for their email addresses. However, the landing page builder does have some limitations in terms of design options and usability.
Integration and Compatibility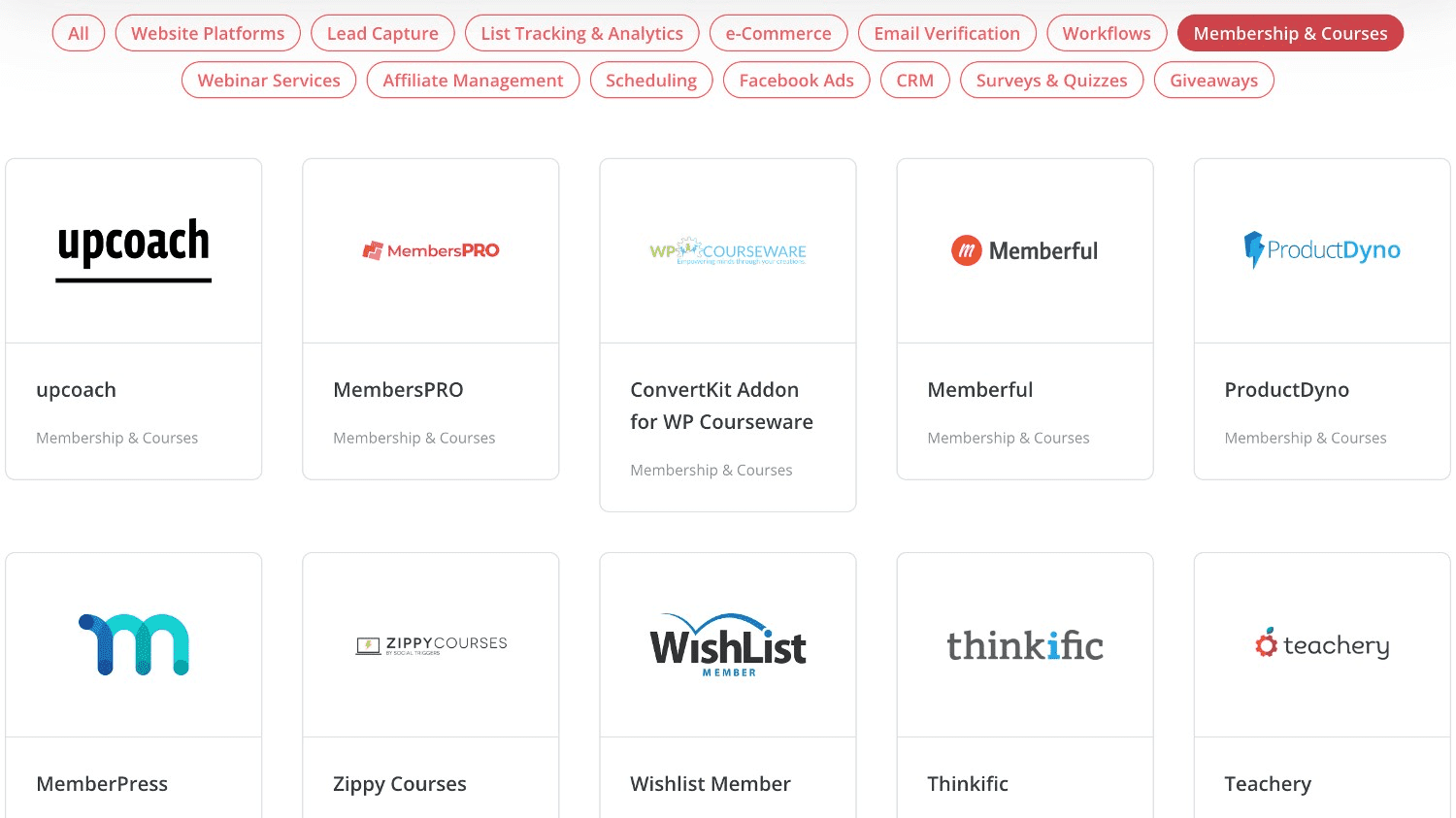 ConvertKit offers seamless integration with a wide range of platforms and apps, making it easy to connect your marketing efforts with other tools and services.
From platforms like Searchie and ThriveCart to systems TryInteract for quizzes and Livestorm for webinars, ConvertKit has you covered.
Let's dive deeper into the types of integrations available and how they can enhance your marketing strategy.
By integrating with popular eCommerce platforms like Shopify, Squarespace, and Stripe, ConvertKit makes it easy for creators to manage their digital products, track sales, and automate customer communication.
Additionally, ConvertKit Commerce allows creators to sell their digital products directly through their ConvertKit account without needing an eCommerce integration.
This streamlined approach to selling digital products makes ConvertKit a powerful tool for online creators.
ConvertKit's CRM integrations enable users to easily sync their contacts and customer data between their CRM and ConvertKit.
This allows for better management of customer relationships and more effective marketing automation.
Integrations with platforms like Zoho CRM, Agile CRM, and HubSpot make it easy for users to keep their contact data up-to-date and leverage the power of their CRM alongside ConvertKit's marketing capabilities.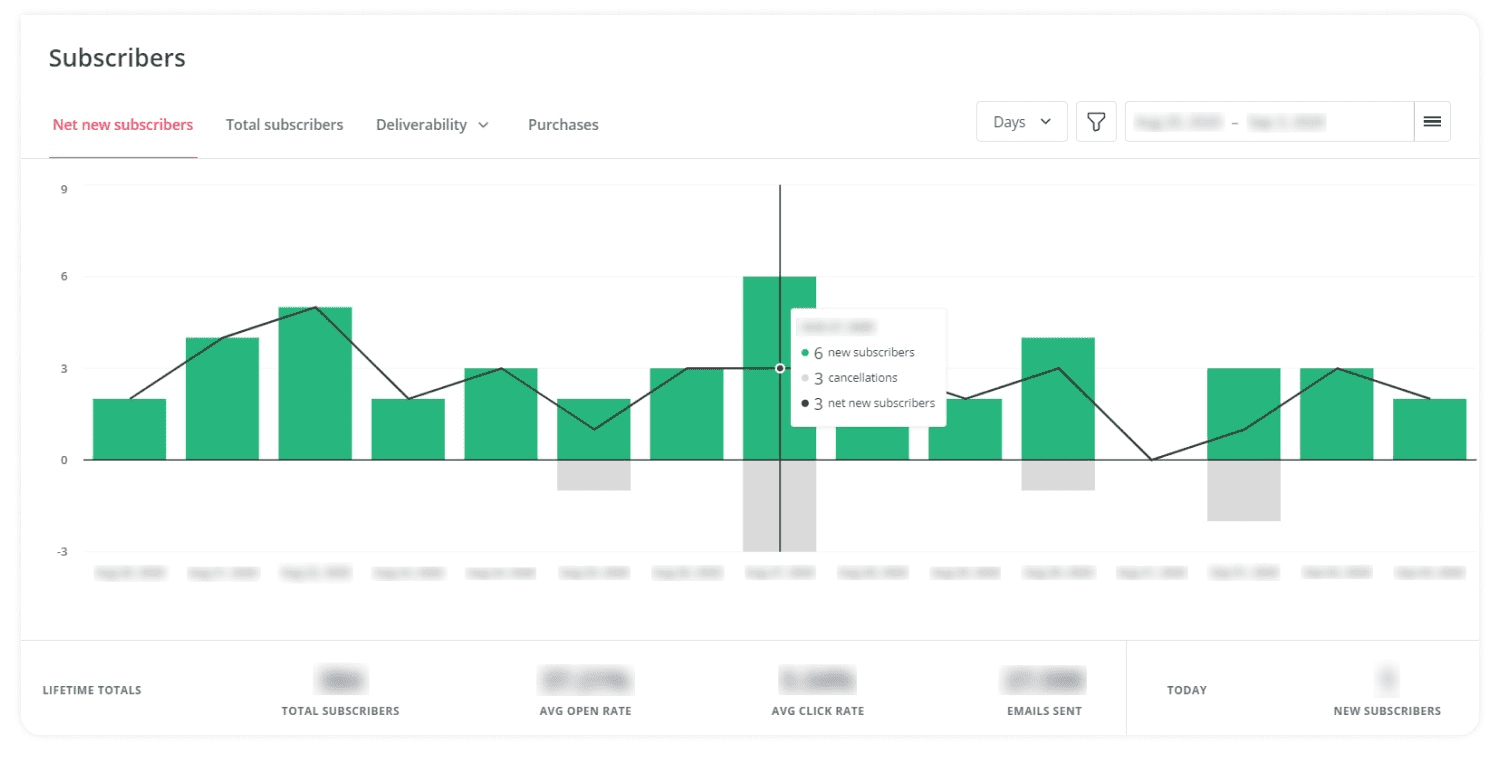 When evaluating ConvertKit, it's essential to consider key performance metrics such as deliverability and open rates, click-through rates, and reporting features.
These metrics give you valuable insight into the effectiveness of your marketing efforts and help you make data-driven decisions to optimize your campaigns.
Let's explore ConvertKit's performance metrics in more detail.
Deliverability and Open Rates
ConvertKit boasts impressive deliverability and open rates of 99.8% and 42%, respectively.
These high rates indicate that your emails are more likely to reach your subscribers' inboxes and be opened by them.
This is crucial for the success of your marketing campaigns, as it directly impacts your ability to engage your audience and drive conversions.
Without these high rates, the chances of your emails ending up in the spam folder are higher and that's the opposite of what we're trying to do here.

With an average click-through rate of 4.8% across ConvertKit accounts, it's clear that this platform delivers results when it comes to driving user engagement.
Click-through rates are an essential metric for measuring the success of your email campaigns, as they indicate the effectiveness of your calls-to-action and the relevance of your content to your audience.
A high click-through rate is a strong indicator that your email marketing efforts are resonating with your subscribers.
As you can see in the photo above, my click-through rate is sitting at 5.18% which is above the ConvertKit average (woohoo!).
ConvertKit offers basic analytics and reporting on its Broadcast dashboard, providing an overview of your email campaign's performance, including open rates, click-through rates, and unsubscribe rates.
Additionally, the Creator Pro plan offers advanced deliverability reports, subscriber engagement scoring, and a newsletter referral program for more in-depth analysis.
While ConvertKit's reporting features may not be as extensive as those offered by some email marketing services, they provide valuable insights to help you optimize your marketing strategy.
Customer Support and Resources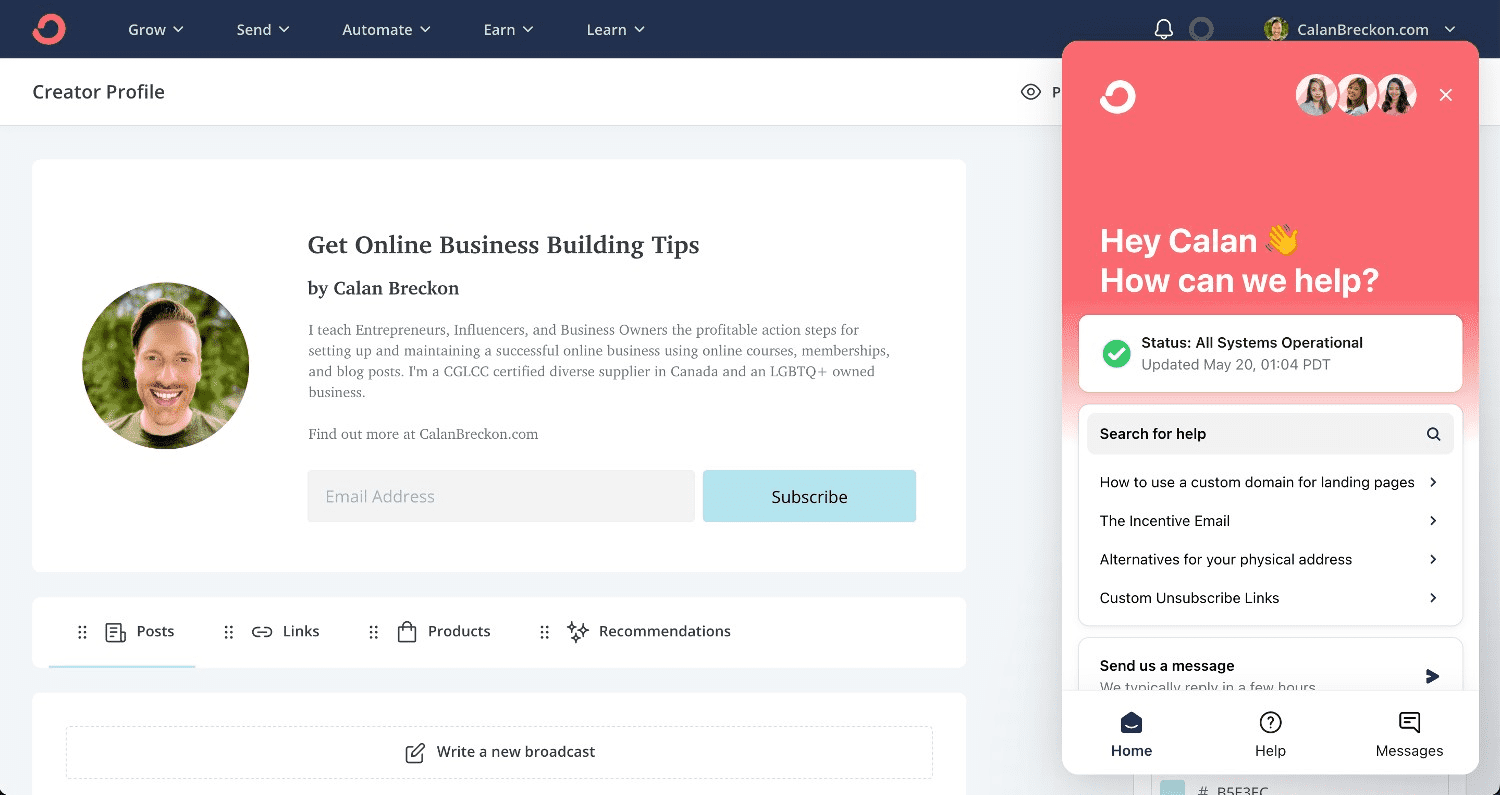 ConvertKit's Customer Success team is available seven days a week to provide exceptional support and assistance.
In addition to email support, ConvertKit offers a wide range of documentation, tutorials, workshops, and courses to help users get the most out of the platform.
From getting started guides and video tutorials to in-depth courses on launching products and integrating with WordPress, ConvertKit has a wealth of resources to help you succeed.
Users can reach ConvertKit's support team through email or by using the message bubble in the lower right corner of their website.
This convenient and accessible support channel ensures that help is always just a click away.
With an average response time of 1 hour and 14 minutes, ConvertKit's support team is committed to providing timely and effective assistance to their users.
Documentation and Tutorials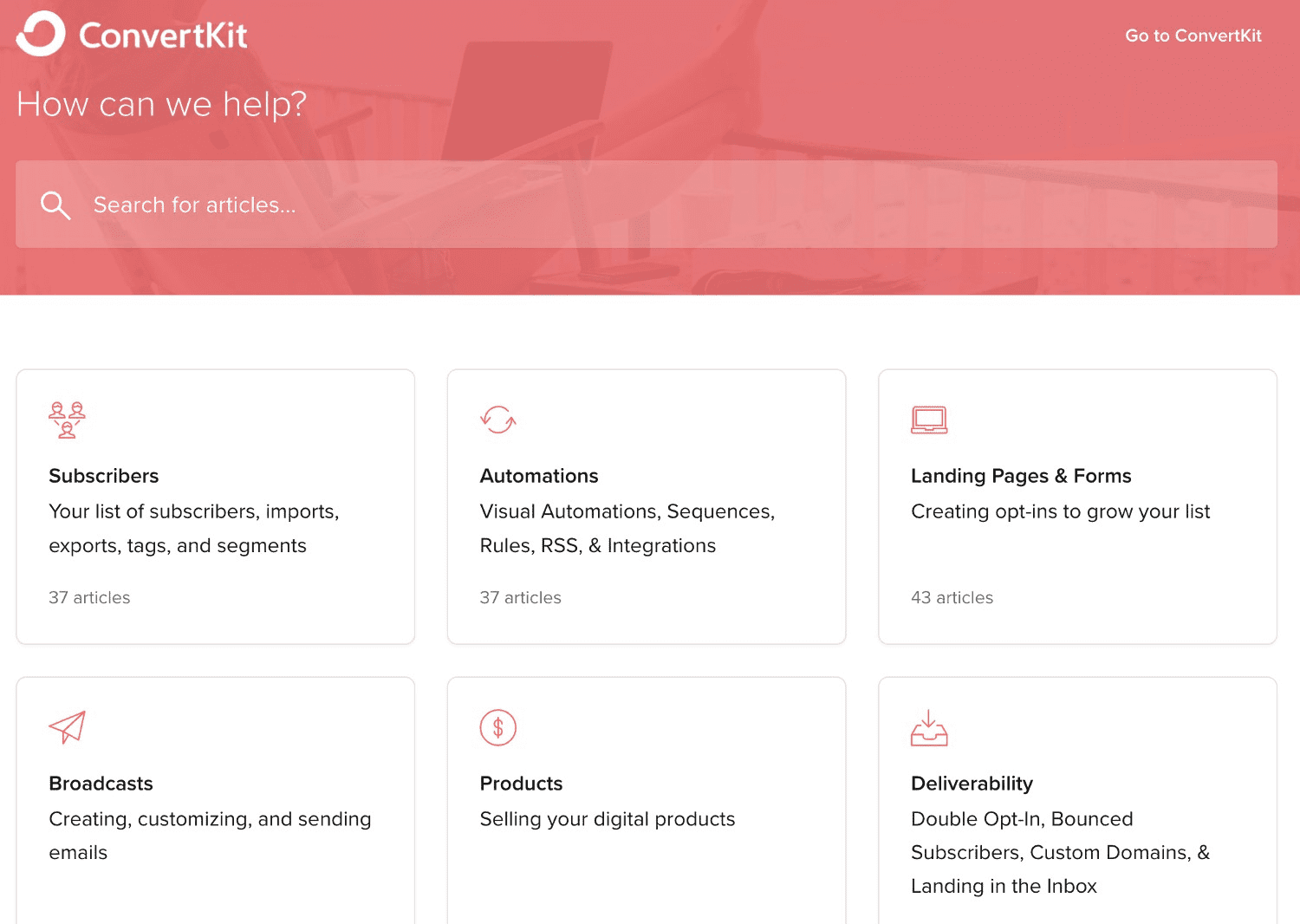 ConvertKit offers a comprehensive collection of documentation and tutorials to help users get started and make the most of the platform's features.
From getting started guides and troubleshooting tips to video tutorials and how-to guides, there's something for everyone.
These resources make it easy to learn the ins and outs of ConvertKit and ensure that you're using the platform to its full potential.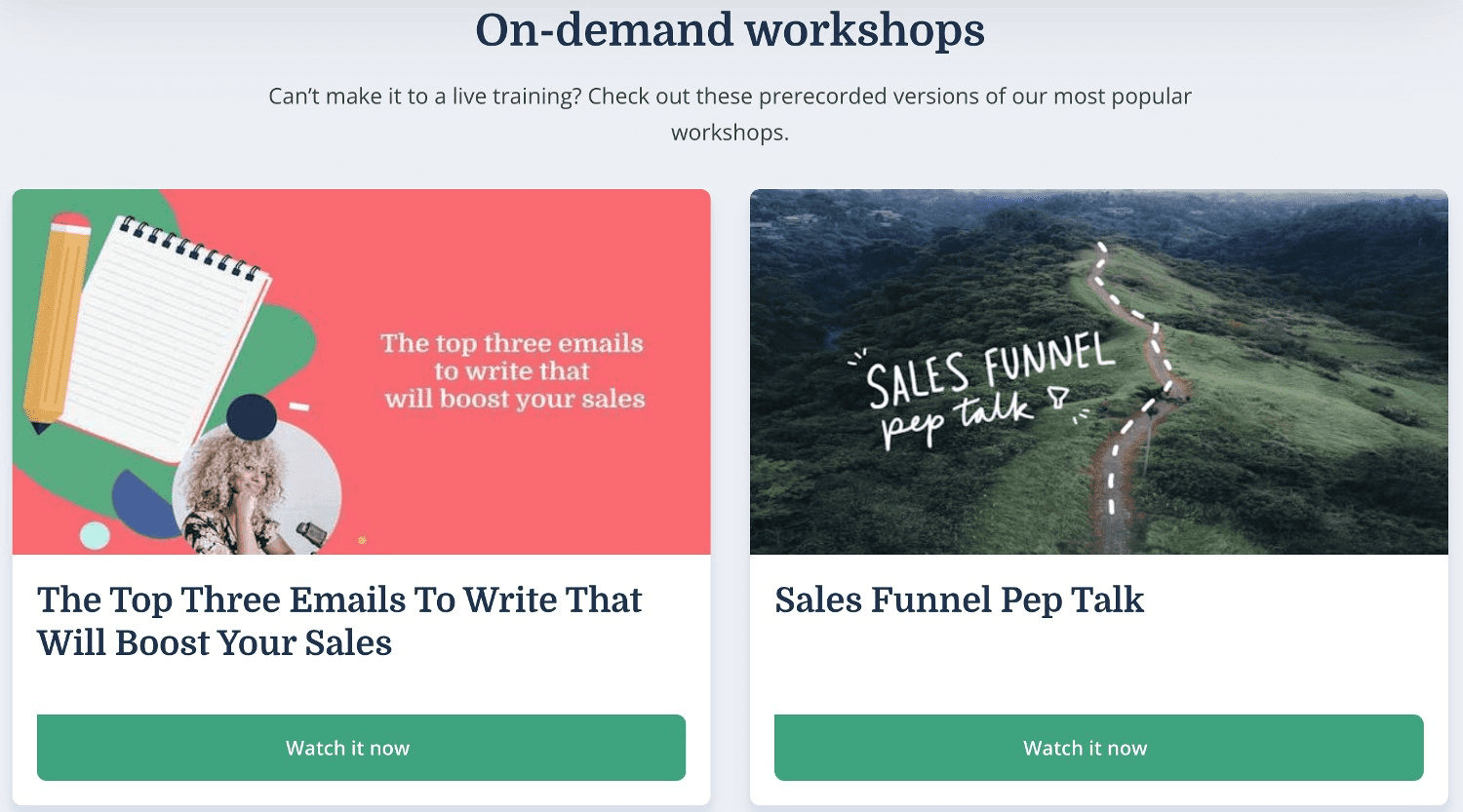 In addition to documentation and tutorials, ConvertKit offers a variety of workshops and courses to help users dive deeper into their email marketing services.
Some popular courses include Email Marketing Jumpstart, ConvertKit for Beginners, and a course on launching, selling, and marketing products or services.
ConvertKit also offers a course on integrating the platform with WordPress, providing users with even more ways to maximize their email marketing strategy efforts.
While ConvertKit certainly has its strengths, it's important to consider both the pros and cons before deciding if it's the right email marketing platform for you.
Some of the key advantages of ConvertKit include its affordable pricing, easy-to-use interface, powerful tag-based subscriber system, custom audiences, and flexible landing page editor.
However, there are also some notable drawbacks, such as limited A/B testing, lack of whole email testing, and expensive pricing for large subscriber databases.
Advantages
ConvertKit's affordable pricing and easy-to-use interface make it an attractive option for content creators looking to grow their email lists and sell digital products.
Its powerful tag-based subscriber system and flexible landing page editor allow for effective list management and customization.
These advantages make ConvertKit a strong contender in the email marketing space, especially for those who value simplicity and functionality over fancy bells and whistles.
Drawbacks
Despite its many strengths, ConvertKit does have some drawbacks.
Its limited A/B testing capabilities and lack of whole email testing may be a concern for users who rely heavily on data-driven optimization.
Additionally, its pricing can be expensive for those with large subscriber databases. These drawbacks may make ConvertKit less appealing to some users, particularly those who require more extensive features for massive lists.
Comparing ConvertKit Alternatives
When considering email marketing platforms, it's important to compare ConvertKit with its competitors to see how it stacks up.
Two popular alternatives to ConvertKit are Mailchimp and ActiveCampaign.
Let's take a closer look at these alternatives and see how they compare to ConvertKit.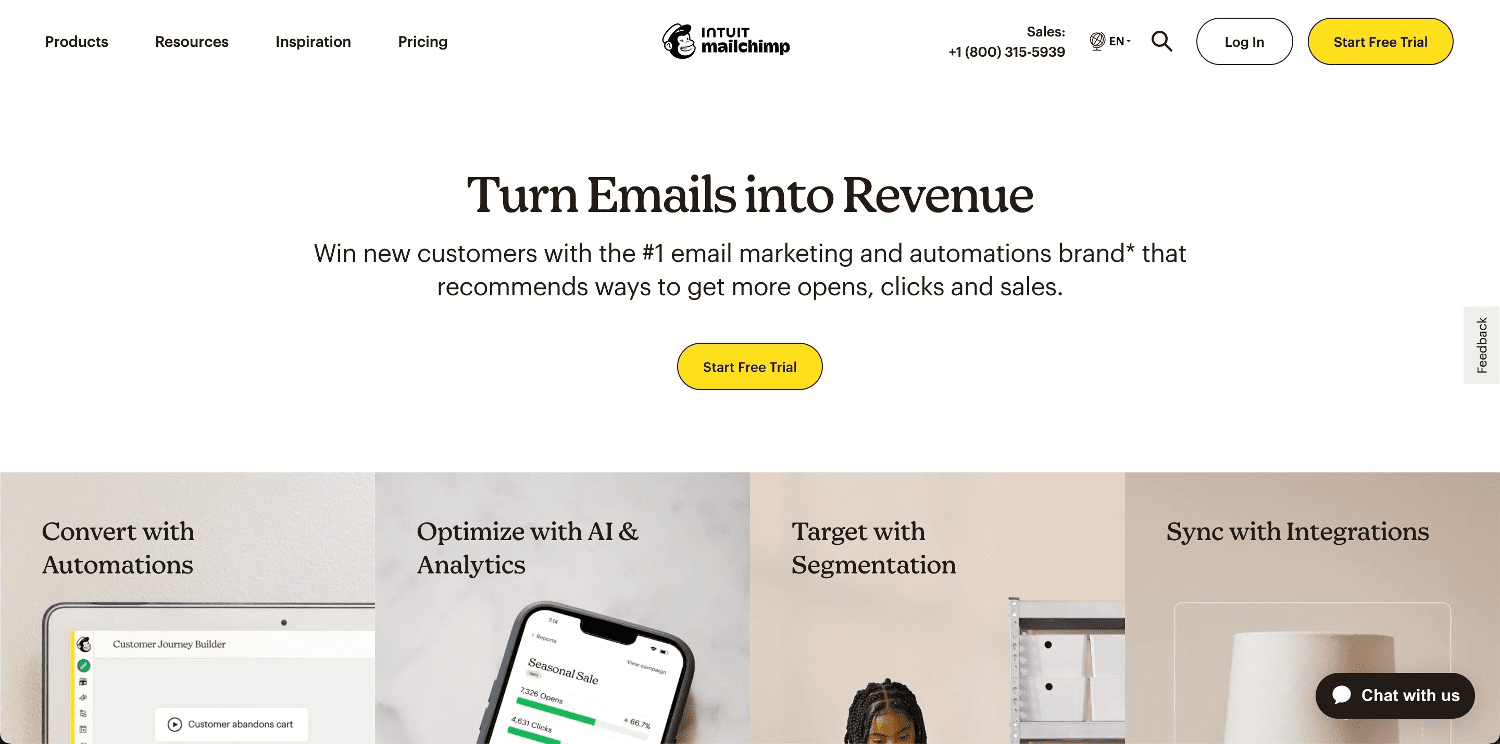 Mailchimp is a well-known email marketing platform that offers a wide range of features, including audience management, marketing CRM, segmentation, and content studio, just to name a few.
While ConvertKit and Mailchimp share some similarities, Mailchimp offers more extensive features and a user-friendly interface that may appeal to those who require more flexibility and customization options.
I personally started out with Mailchimp way back in the day and found it more clunky and difficult to navigate compared to ConverKit which is why I made the switch.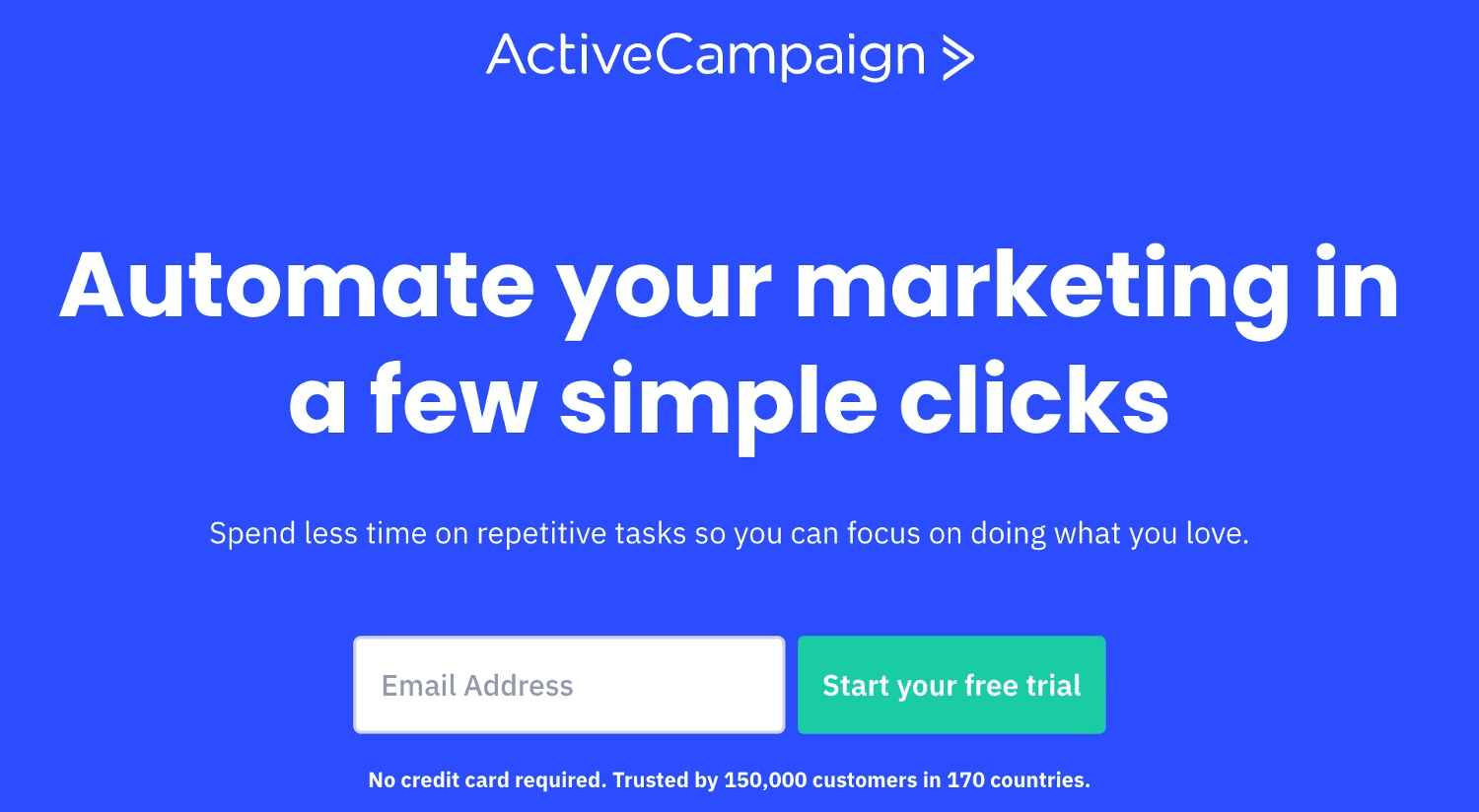 ActiveCampaign is another popular alternative to ConvertKit, offering a robust range of features such as personalized and targeted email campaigns, automation workflows, contact management, and CRM capabilities.
With pre-built automations, social media integration, and reporting tools, ActiveCampaign is a powerful platform that can take your email marketing game to the next level.
In conclusion, ConvertKit is a powerful and user-friendly email marketing platform designed with creators, bloggers, and small businesses in mind.
Its affordable pricing, easy-to-use interface, and impressive feature set make it a strong contender in the world of email marketing.
However, it's essential to weigh the pros and cons and consider alternatives like Mailchimp and ActiveCampaign before making a decision.
Ultimately, the best email marketing platform for you will depend on your unique needs, goals, and preferences, and I hope you've enjoyed this ConvertKit review!
So take the plunge and explore the world of ConvertKit to see if it's the perfect fit for your marketing journey!
What is ConvertKit used for?
Are you looking for an intuitive and powerful email marketing tool? Then ConvertKit is the perfect solution for you!
It's great for creating newsletters, automated campaigns, and building lists through customizable forms, landing pages, email templates, and product embeds. Plus it offers a great user-friendly experience.
What is ConvertKit and how it works?
With ConvertKit, you can create simple opt-in forms to help capture email leads, segment your audience into targeted groups, design and personalize emails with a visual editor, and automate content delivery based on subscriber activity.
Excitingly, ConvertKit also allows you to sell products directly within the platform.
Does ConvertKit have a CRM?
No, ConvertKit is an email marketing tool. NOT a CRM. You'll need another tool like HubSpot to manage your customer relations.
Do I need a website with ConvertKit?
No, you don't need a website to start growing your mailing list with ConvertKit. It's easy to build a landing page with ConvertKit's landing page template tool.