Calan Breckon • Updated March 3, 2023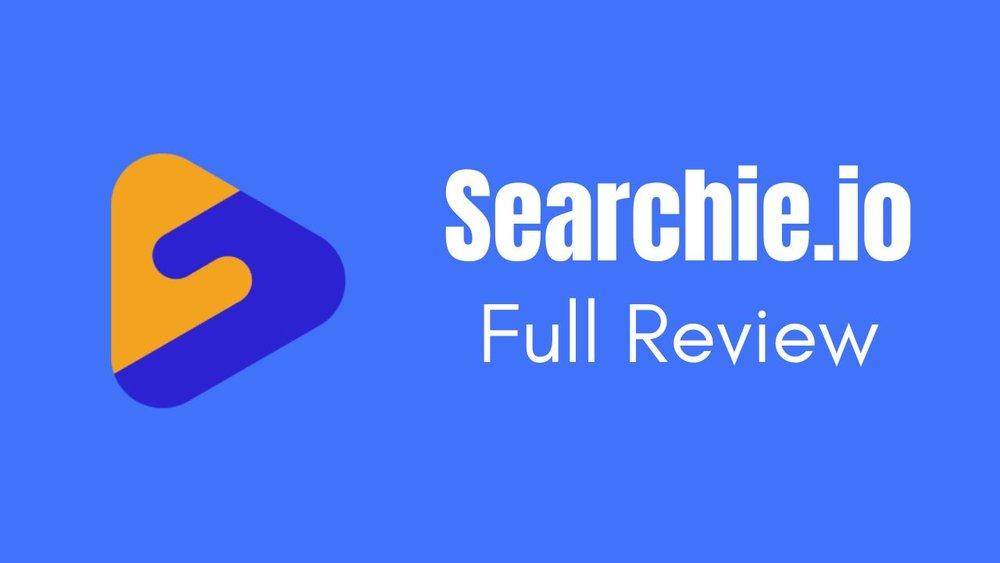 More and more people are flocking to online learning so it makes sense that platforms like Searchie are becoming more popular for online businesses.
With Searchie, content creators can monetize their knowledge with digital products and then sell those products online through its platform. There are quite a few to choose from and if you're looking for a comparison you can check out the post where I ranked the 7 best membership site platforms at the bottom of this article.
In this Searchie review, I'm going to break it all down for you so that by the end you'll know if Searchie is the right platform for you or not.
Let's dive in.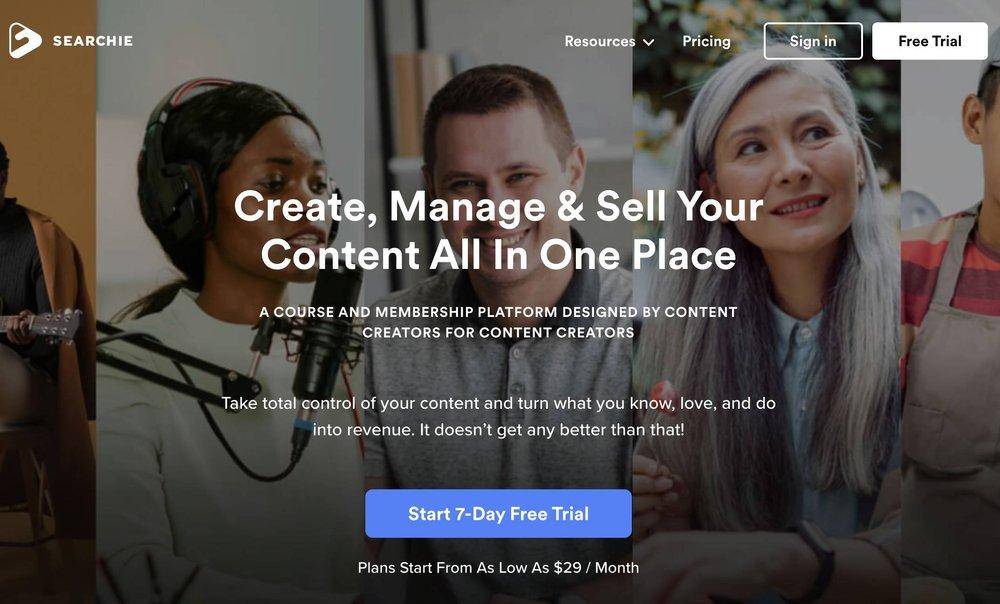 Searchie is a course and membership platform designed by content creators for content creators. It was created by Stu McLaren from The Membership Experience (formerly TRIBE) who has spent years learning about and perfecting the membership model business which means he knows exactly what we as the consumers need and want from a platform.
Searchie is where a content creator can build and sell their digital products (like a digital course or membership) in order to create monthly recurring revenue and build a successful online business.
The platform uses innovative features to help you quickly create, build and launch your online course or membership business and provides you with unmatched support while you do it. It also offers competitive pricing starting at $29/mo, that's cheaper than other platforms, and has a 7-day free trial with no credit card required in order to try it out.
The best part about Searchie

The best part about Searchie in my opinion is the searchability of your content. Searchie automatically transcribes everything you upload and if a user searches a word in the search bar Searchie scours everything, not just your content titles, and will present every piece of content you have where you mentioned that word.
On top of that, it will say how many times the word was mentioned and can also take users to the exact moments inside the content where the word was said.
You can think of it as a search engine on steroids.
It's amazing for users looking for a specific topic and equals a lot less wasted time searching for things.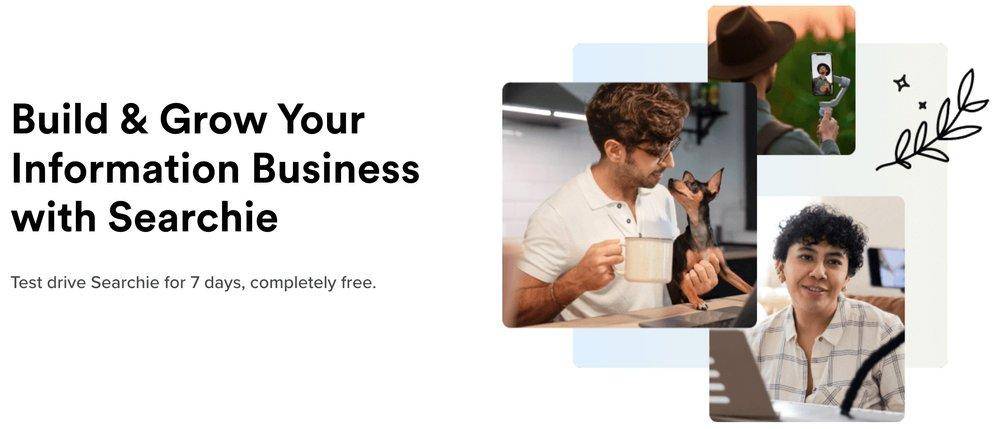 Searchie is perfect for any content creator looking to monetize and create a successful online business through courses and memberships.
This isn't an exhaustive list by any means, but if you fit into one of these categories then Searchie could be perfect for you and your online business creation needs.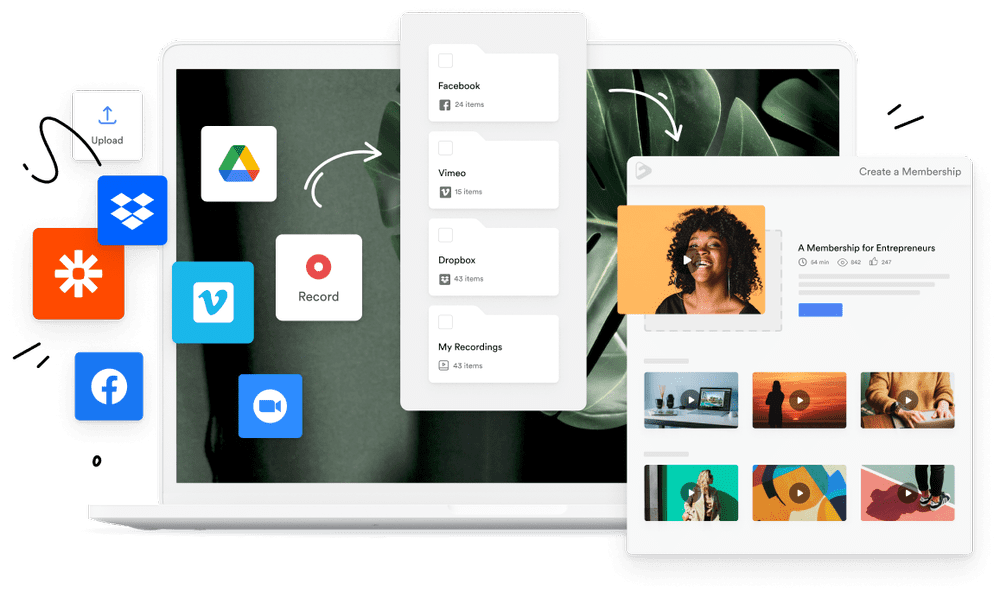 I have to give a shout-out to this last one because the support team they have working at Searchie is full of the most caring and amazing people. Any time I've ever run into an issue they've been super speedy at responding and either fixing the issue right away or keeping me updated every step of the way.
I've not experienced such phenomenal support from any other program I've used thus far.
I also use Searchie to host the video content for my online courses that I host on ThriveCart. It works really well since you can grant access to specific websites from Searchie so only my ThriveCart course students can view the content and no one else.
It's still a relatively young platform
This isn't to say it's a bad thing that they're constantly growing and in a beta mode, but it just means there are kinks to be worked out. The Searchie team is usually pretty quick to fix any issues but just know going in that there will be bumps.
You'll need to use Zapier for specific integrations
Because it's still a new platform you'll probably need to use Zapier for a few things like connecting your email list (like ConvertKit) and a few other things.
No affiliate payouts for your members (yet)
If you want to have your members go out and spread the word, amazing! If you want them to get a kickback for sharing their own affiliate link and helping to build your membership, not so amazing. The feature is currently in review for the platform but no word yet on when it might come into play.
If this feature is something really important to you, I'd suggest checking out ThriveCart as it has a built-in affiliate program using PayPal and can be completely automated or you can check out where I reviewed 7 membership site platforms to find out what other options might offer it.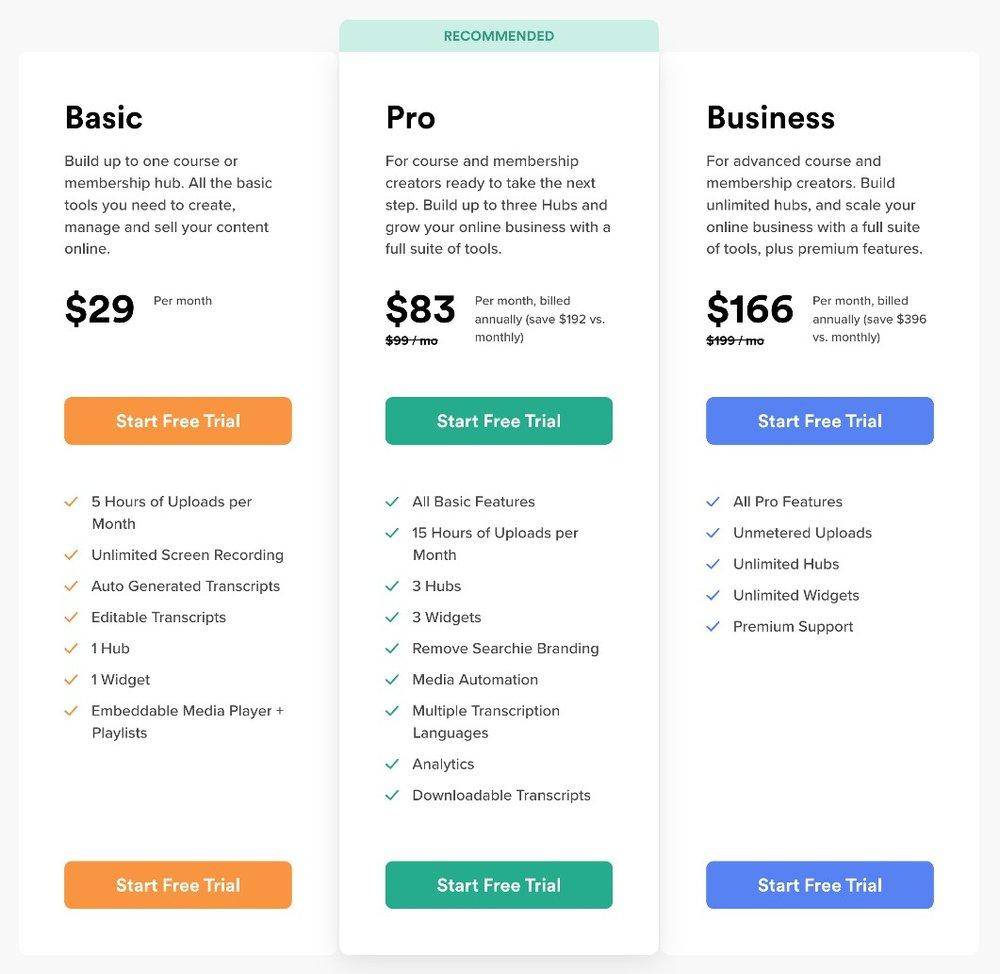 This is a great place to start if you don't have loads of content you're going to be uploading right away. This plan comes with 5 hours of uploads per month, 1 hub, those valuable transcripts I spoke about before (although you can't download them on this plan) as well as Unlimited screen recording.
The last one is important to note because even if you think you're going to go over the 5 hours of upload time you can still choose this plan if a lot of your uploads are going to be screen recording teachings. Instead of paying for something like Loom, you can use the Searchie plugin for Chrome for screen recording and it's going to automatically upload them for you into your backend and not count against your upload time. The downside would only be if you like to do a lot of editing to these videos before you upload them, but if not, you're golden!
$99/month or $83/month if you pay yearly
This is where most people will probably land when they start with Searchie. I say that because it comes with 15 hours of upload time, three hubs, you get to remove the branding for a seamless crossover with your own website, and analytics which is important to know what your students are consuming and not consuming, and you get to download those vital transcripts which you can use anywhere else you might post this content.
If you have a lot of content up front that you know you need to upload, like a course, then you can start off with this plan and after you've done a month or so of uploading everything then you can always downgrade to the basic plan if you won't be uploading as much per month.
This is the plan I have my membership hub on and it's what I've used from the start. I've been extremely happy with it and the students love how easy it is to navigate around the hub.
$199/month or $166/month if you pay yearly
Basically the unlimited plan. This is great for companies, organizations or someone who plans to build and host a lot of membership programs on their account.
You get everything from the first 2 plans and it's all unlimited.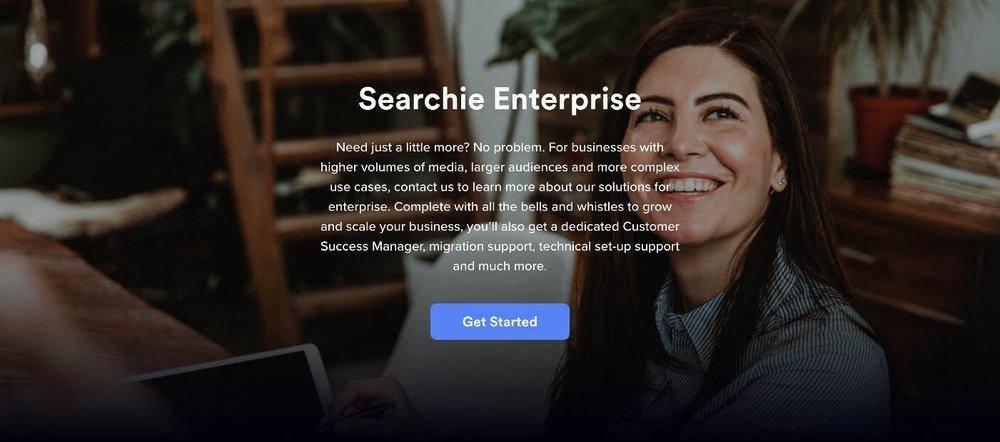 Searchie may be the new kid on the block, but out of all the platforms out there to create and host online courses and memberships I think it's doing a great job proving itself. From the price point to the search capabilities and user friendly interface and building system, Searchie gets top points from me.
I hope this Searchie review has been helpful for you. If you're torn between a few different options, take advantage of the 7-day trial and see if you enjoy it or not. You don't need a credit card to sign up and you'll get access to all the fun stuff right from the start.
You can also check out my resources page for more business tools to help you build a successful online business.
Can I use a custom domain with Searchie?
Yes! Searchie makes it easy for you to use a custom domain with your membership site and even has a tutorial on how to do it.
Can I cancel my Searchie subscription anytime?
Yes! Searchie doesn't hold you to any contract so it's easy to cancel at any time. In your account settings simply navigate to the subscription menu item and then at the bottom you will be the cancel subscription option.
Is it easy to upgrade or downgrade my Searchie subscription?
Yes! Inside your account settings, you can click the subscription menu item and then either upgrade or downgrade your plan with the click of a button.
Do I own my content on Searchie.io?
Yes! You 100% own your content on Searchie.io which is why it's the perfect platform for hosting a membership site.
Can Searchie host my main website?
As great as Searchie.io is, I would suggest having a main website on another platform that is designed for hosting the main website. Searchie can either have a hub as private or public, not both so it would make things difficult.
What is a Searchie.io Hub?
A Searchie hub is where you host all of your content. You can design them like a website for your clients to navigate through and are perfect for your digital products like membership sites and courses.
What is the Searchie Chrome extension?
The Searchie Chrome extension allows you to record a screen much like how Loom works and it comes free with your subscription.
BASIC PLAN: $29/month
PRO PLAN: $99/month or $83/month if you pay yearly
BUSINESS PLAN: $199/month or $166/month if you pay yearly
Can I host a Quiz on Searchie?