Calan Breckon • Updated May 26, 2023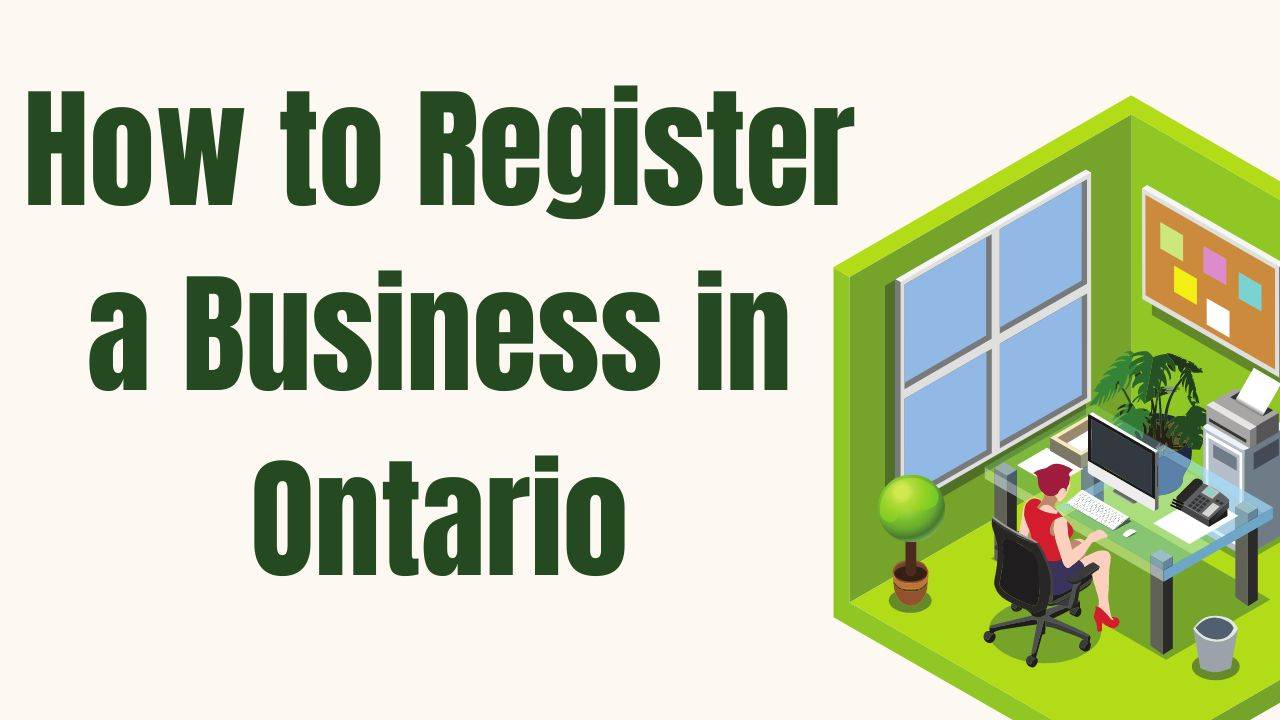 When I first started my online business I had no idea how to register a business in Ontario. Everywhere I looked seemed so complex and it was really overwhelming.
All I wanted was a simple step-by-step guide that would walk me through what I needed to do from start to finish so that I wouldn't mess it up.
Since I couldn't find one, I'm making this easy-to-follow guide on the business registration process in Ontario for you so that you don't need to struggle like I did when I was first starting my business.
Types of business registrations in Ontario
First off, let's cover the types of businesses you can start so you have a good understanding of which route you want to take in creating your business.
There are 3 common ways to register a business in Ontario and each one comes with a different set of requirements and costs.
A sole proprietorship is the simplest form of business organization and is the easiest to set up. If you carry on business in your name of any kind, you're a sole proprietor. The difference is if registering as such then you can qualify for input tax credits (ITCs) and collect and remit GST/HST.
For most beginner businesses it will make the most sense to set up your business structure as a sole proprietorship first while you're learning and then possibly evolve into an incorporation. I started off as a sole proprietorship so I'm mostly going to cover that option in detail through this article.
A sole proprietorship will automatically become a partnership (two or more people) as soon as the sole proprietor brings on a business partner. The Partnerships Act (Ontario) determines the rights and obligations of each partner unless a formal partnership agreement is entered into, which is highly suggested if you're planning on doing business with someone in a partnership.
If you're planning to work as a general partnership or bring on a business partner then you can go through the sole proprietorship path of creating your own business and then write a formal partnership agreement for your partnership.
Just be sure you really want to do business with this general partner as part of this partnership and put together a contract that you're both happy with.
A partnership itself is not a taxable entity and each partner in the partnership is responsible for their own share of the tax split determined by their contract together.
A corporation is its own legal entity that is separate from its owners who are known as the shareholders. The shareholders are not personally liable for the acts, obligations or debts of the corp which is why setting up a corp has its advantages in regards to protecting you as an owner/shareholder.
Corporations can be formed at either the federal level or provincial level and there are different costs and benefits to both which I will lay out later in this article.
You can incorporate a corporation as a single individual and be the sole director, officer and shareholder of the corporation or you can do this with others as your business partners. Since a corporation is a separate legal entity, you can be an employee of the corporation and pay both employees and yourself a salary which you will then have to pay tax on. As the corporation is its own legal entity it will also have to file its own taxes.
How to register a sole proprietorship in Ontario
There are three questions we will answer in this part:
How to register a business name in Ontario

How to register for business taxes in Ontario

What is the difference between a Business Number (BN) and a Business Identification Number (BIN)?
How to register a business name in Ontario
If you operate strictly as your personal name, then you don't have to register it as a business name (although it would still be advisable to do so).
If you operate as anything other than your personal name, then you must register your proposed name as a business name within 60 days of starting operations.
For example, if you want to add "consulting" after your name then you need to register this as "YOUR NAME Consulting."
It will cost you $60 to register your business name

You can use a company like Ownr to register your business name if you want help doing so for a small fee

Once you do this and it's processed you will receive all the detail on what's called a Master Business Licence (I'm going to call this your MBL for short)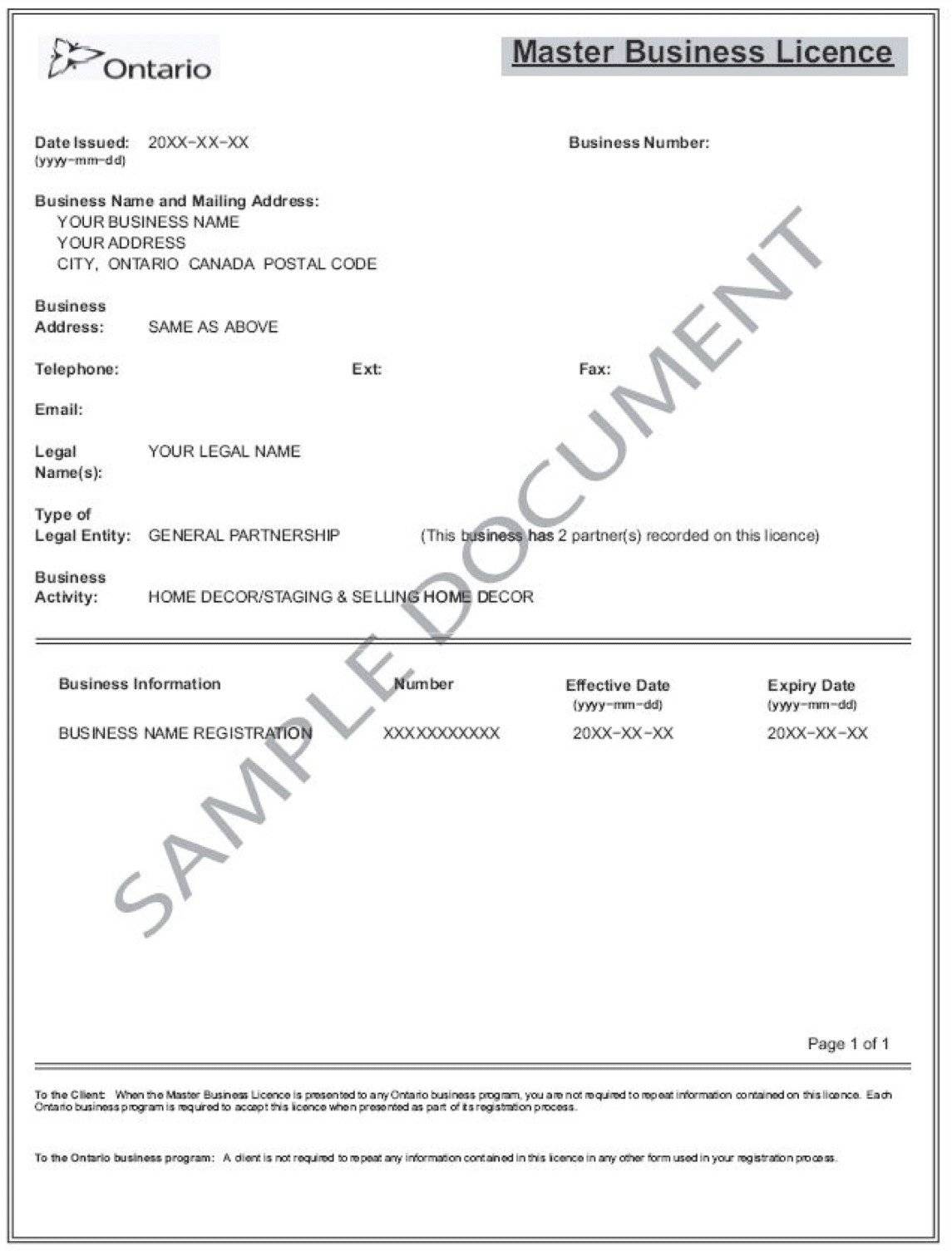 How to register for business taxes in Ontario
Registering for your BN is how you register your business so that you can collect and charge GST/HST.
If you make less than $30,000 in 1 year or in 1 quarter operating your business then you don't need to register for a BN and you will not charge taxes.
But the moment you cross over that $30,000 mark you will need to have your BN in place. So it's better to just go ahead and register for your Business Number on the Canadian Government website as soon as you get your MBL from registering your Business Name.
Once you get your BN, you can add it to your MBL

What is the difference between a Business Number (BN) and a Business Identification Number (BIN)?
This really confused me when I first started my business because I couldn't get a clear answer on the difference between a Business Number (BN) and a Business Identification Number (BIN) so I'll lay it out clearly for you here:
Your BN is Federal and is a tax account number with the Canada Revenue Agency. This is why it is not printed on your MBL from the Ontario Government and needs to be applied for and added to your MBL after you receive it.
Business Identification Number (BIN)
Your BIN is attached to your MBL and is 9 digits long and can be found in the middle of your MBL as shown in the photo below.
How to find your Ontario Business Identification Number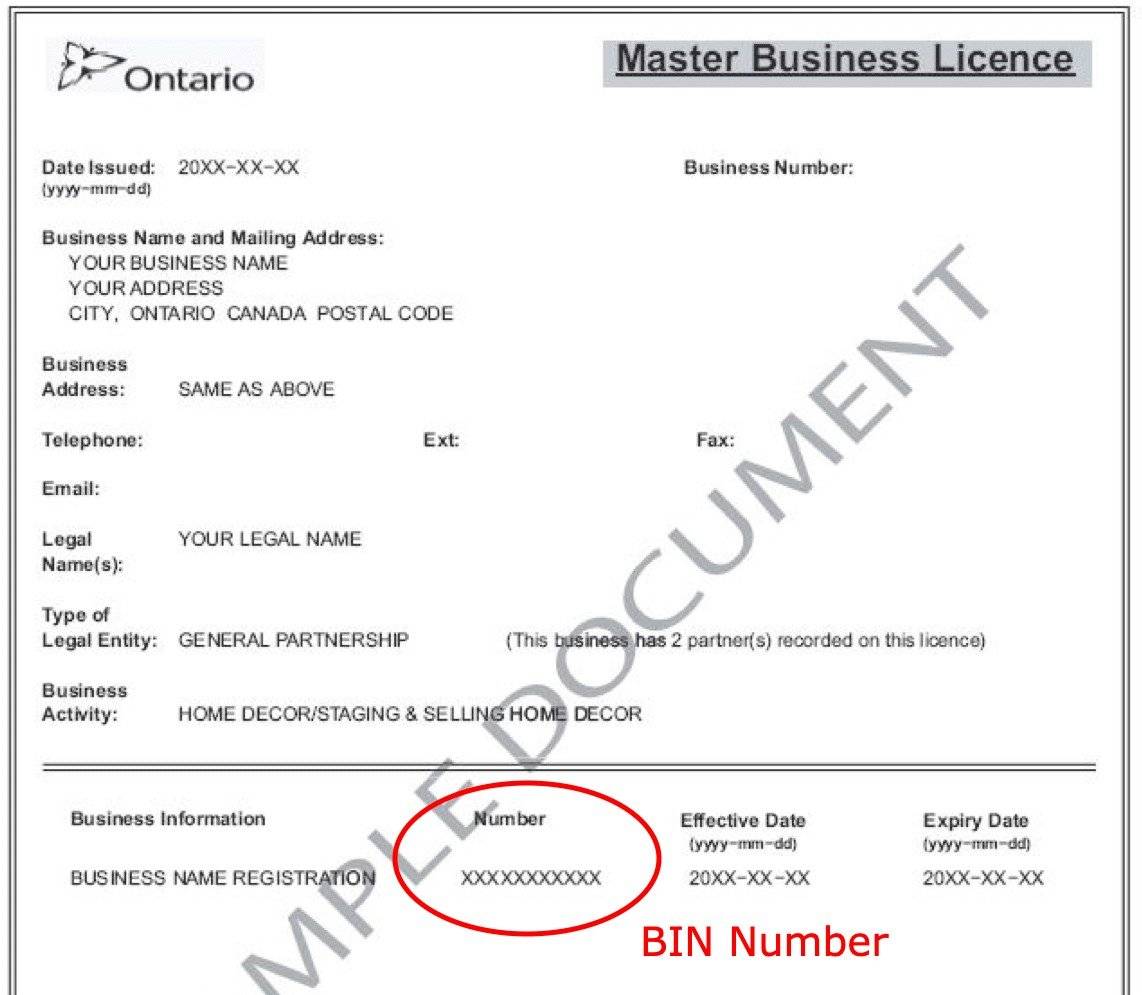 How to incorporate a business in Ontario
You can incorporate your business in Ontario yourself for $300 + $50 filing fee and the additional $60 fee it costs to register your business name for a total of $410. You can do this through the Ontario website.
You can also use a company like Ownr to walk you through the process of incorporating your business since it can be quite confusing and overwhelming. It's highly recommended that you use a company to help you because if you do it yourself and mess up, you're on the hook for all the fees to do it again.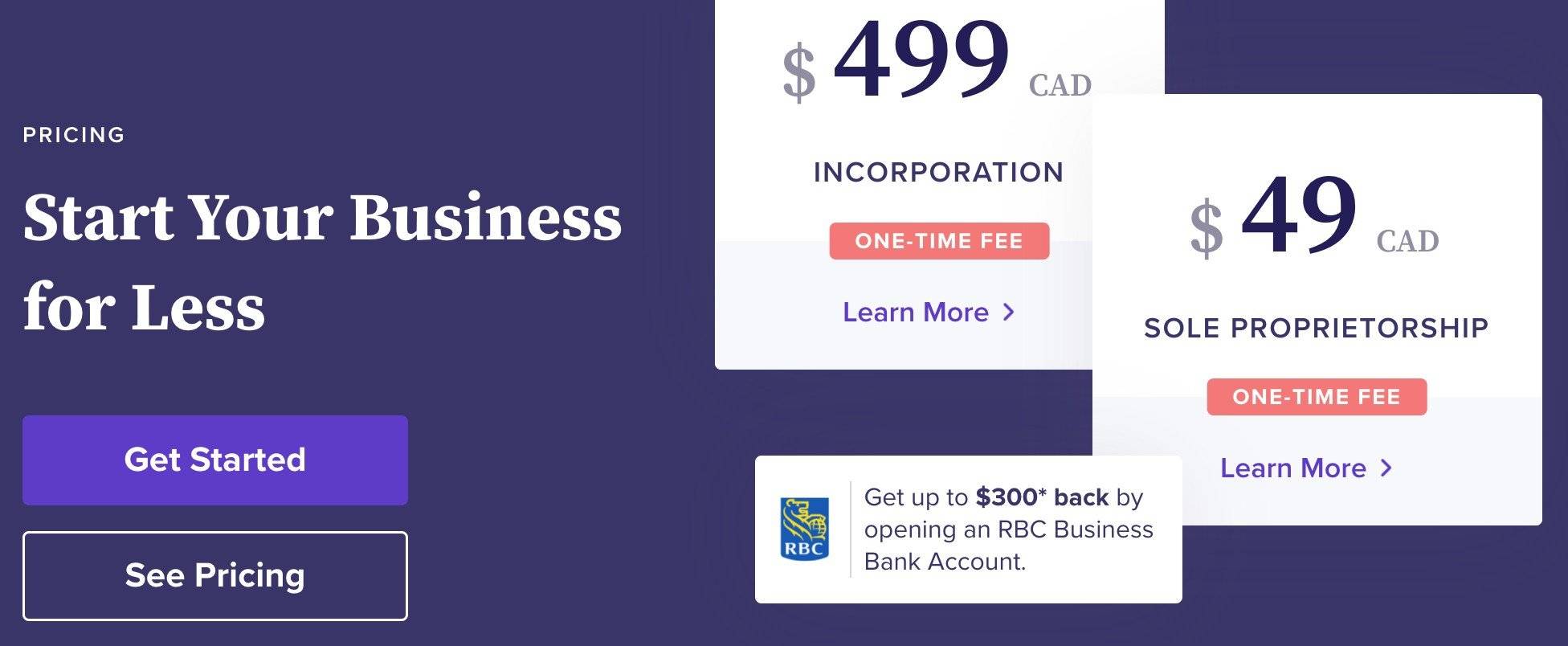 Going through Ownr will cost you $499 and covers:
Incorporation & filings with the Government

Company Name Registration Process

Company Organization Documents & Share Issuances
You can also get up to $300 back by opening an RBC Business Bank Account through their program which will almost pay for the process. Since you need to legally open a bank account for your proposed business anyway, it makes sense to recover some of your money in the process.
Advantages of Corporations:
Limited liability

Ownership is transferable

Continuous existence

Separate legal entity

Possible tax advantages

Easier to raise capital
Keep in mind many businesses start off as sole proprietorships and then progress to registering as a corp. It's also more expensive to file taxes as a corp than it is to do as a sole proprietorship.
Do you need insurance for a small business?

Yes, you probably should. But if you're like me and work from home then I have a great option for you that will cover both.
I have to admit, it wasn't until I needed to get tenant insurance that I also thought about getting business insurance. Everywhere I looked only offered one or the other and it was hard to find a plan that was going to cover both since I work from home.
Then I came across Square One Insurance Services and was ecstatic when I found out they cover both home and business insurance! Their plans start from as little as $12/month and the plan I'm currently on is about $39/month which covers all of my home and small business needs.
Finalize your business registration
If you've gone through this whole article then you should be solidly set up with your small business, or at least now you know more about the business online registration process with the Ontario government, the Ontario registration fee, and business structure in Canada.
It can be really overwhelming, especially if you're doing it on your own like I did, but trust me once it's all done you'll be so happy you did it.
The whole process of setting up a business is a journey and once you've gone through it then you'll know how to do it again and again or help others who are looking to do the same thing.
After you've legally set up your small business you can start looking up business systems that you want to start implementing in your business to make things easier and more automated. Maybe you'll even want to start setting up and selling online courses as part of your business plan.