Calan Breckon • Updated March 3, 2023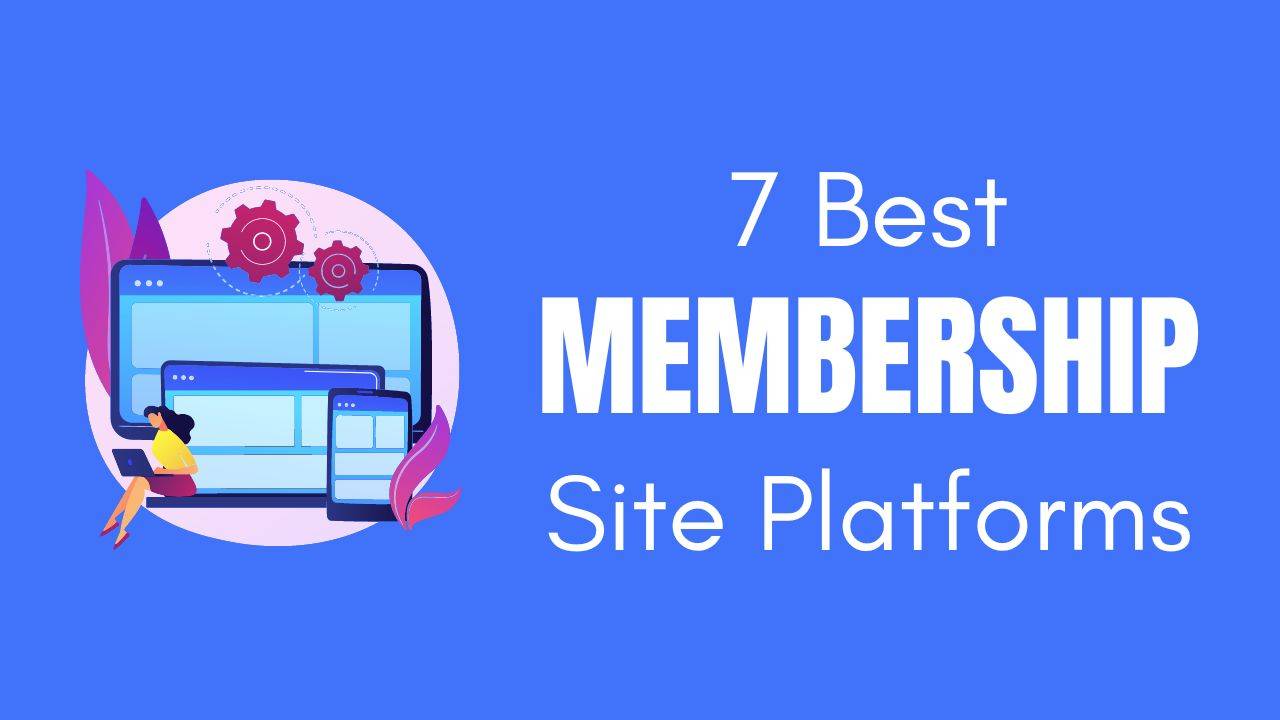 Membership sites and online businesses have been growing in 2022 and they don't show any signs of slowing down. In the last few years, the subscription-based business model has grown by nearly 6x and subscription-based businesses have been growing five to eight times faster than non-subscription-based businesses.
It makes sense when you think about it. We saw a huge uptick in online learning from 2020-2022 due to the pandemic. People became more familiar with systems like Zoom conferencing and online learning became the new normal.
Building a successful online business around a membership site can be a great way for you to create consistent monthly income, build a loyal community, and teach the valuable skills you have to those wanting to learn them.
You can literally create a membership site around any topic (I once saw one all about knitting).
If you have a desire to create a membership site but you're not sure where to start, I'm going to walk you through my top picks for the best membership site platforms and break down what they all have to offer.
You can also use these sites to create online courses and for selling online courses as well if you're not looking to create and manage a membership program.
What is a Membership Site?
A membership site is a place where you can host your premium content and only paying members get access to that site and its content. So, creating a membership site is a great way to monetize your community or followers through recurring subscriptions while also building a more personal and intimate connection with them.
A membership site lets you deliver high-value content and benefits to people who pay a monthly or annual subscription and it's a way for business owners, influencers, and content creators to scale their monthly income potential for their online business.
Why should you start a membership site?
There are so many reasons why you might want to start your own membership site but I'll list my top 4 here for you.
Become a respected source of information

Create a supportive and loyal community

Earn reliable and sustainable income

Create a successful online business that brings you financial freedom
So many things that we consume today run off a subscription-based model. Anything that you have to pay monthly is a subscription model. Usually, it's a smaller fee, but over time those fees stack up.
Why wouldn't you want to create that kind of financial stability for yourself?
Plus, you'll be building an amazing community full of loyal and supportive people that you'll be able to help and serve in only the way you can.
What is the best Membership site platform?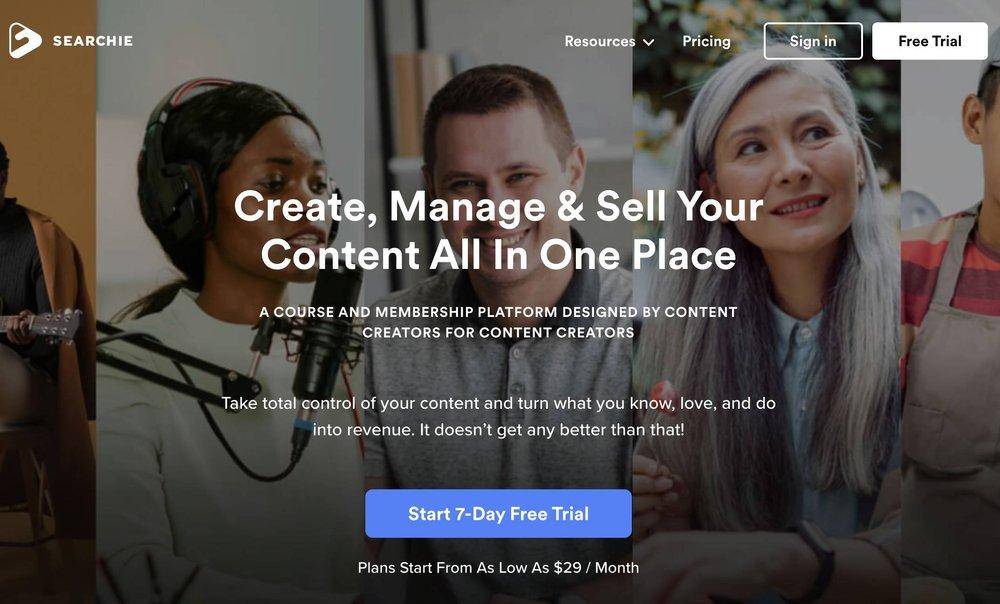 Searchie is the best paid option for those looking to build out their membership experience so that it looks and feels like their own website.
I love Searchie because it gives you the biggest bang for your buck in my opinion. The whole platform is built using blocks so it's easy for you to drag and drop sections in and out of your membership hub. It's super easy to customize everything from domain, colours, fonts, you name it.
You don't need to be super techy in order to learn how Searchie works and in the long run if you plan on hosting both courses and a membership, this is what I would use. It was created by Stu McLaren who teaches people how to create membership sites with his program, The Membership Experience, which tells me he's done his research and know's exactly what a membership website needs to be successful.
There is one BIG reason why Searchie wins out over everyone else, and that reason is…
Transcripts.
Searchie automatically converts all of your content into transcripts for you to download and use. It also means you have built-in subtitles and searchability in your content.
If someone goes into your search bar on your membership site and looks something up, the Searchie system will crawl ALL of your content and present it to the user where that topic was mentioned, and it does this automatically.
This makes your paid membership site much more user-friendly because now you don't need to lay everything out perfectly and direct people everywhere. They can easily use the search bar and find the content they're specifically looking for.
If you have a podcast, you can also upload your audio or video into Searchie and then download and use those podcast transcripts for your podcast SEO on your hosting site. We all know SEO is HUGE for discoverability and most platforms charge a premium for this feature. With Searchie, you get it built-in.
The downside is they don't have a native community area (yet). So if you want to build an engaged community around your membership then you'll have to look at using something like Facebook groups, slack or something similar.
PRICE: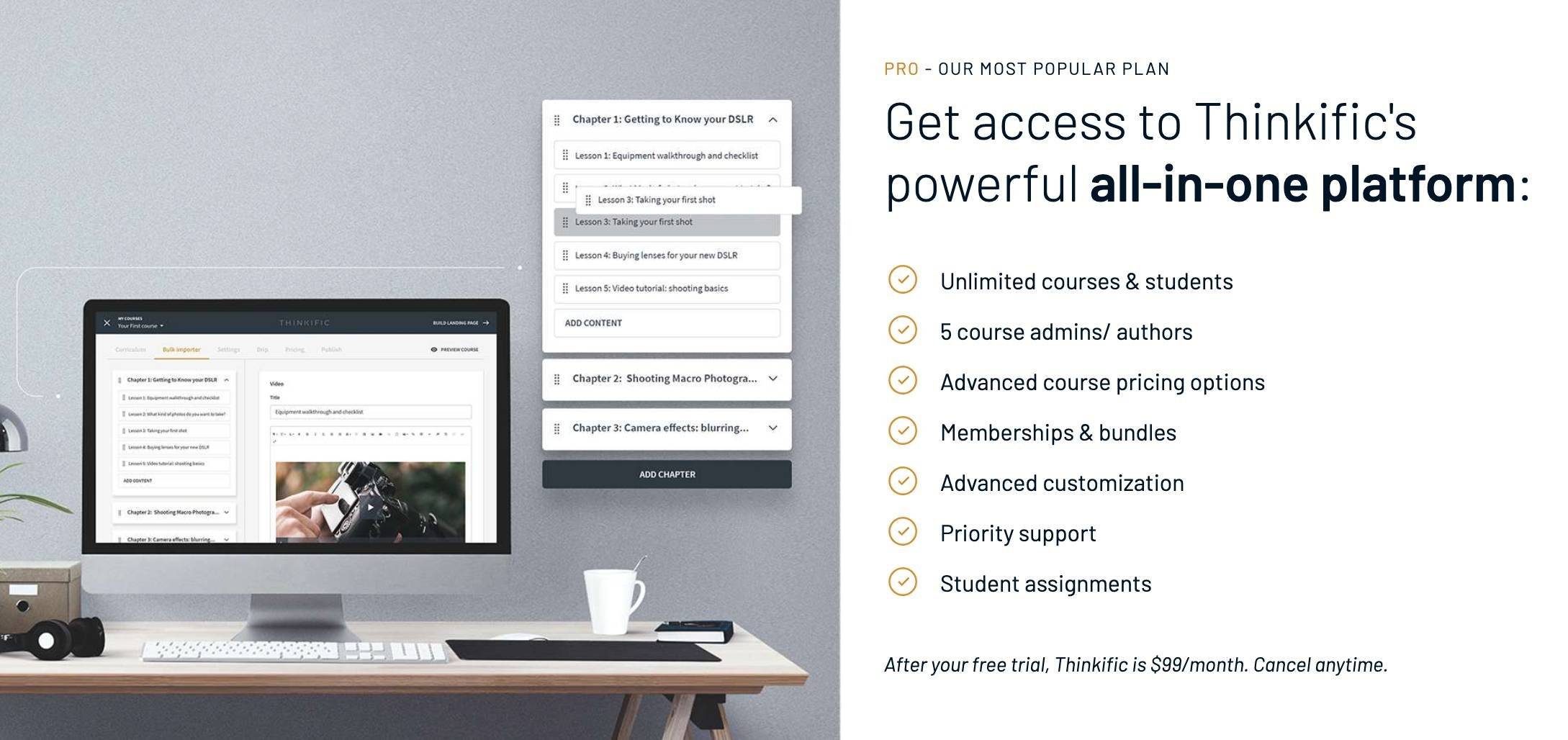 Thinkific is a great option for you if you're mostly focused on online course creation and want an all in one platform.
Thinkific is a great place to start if you're looking to first build a course and then move into membership sites later. It offers a free option where you can host a few courses on their platform, which is very easy to use and set up, and then you can start making some profit before you choose where to spend your money.
I've hosted a few courses on Thinkific and love the easy drag-and-drop set-up for your course landing page as well as the layout for the course when someone is enrolled. The downside is it's kind of limited on what you can do with the free option but overall it's pretty decent considering it's free.
Thinkific also offers membership & bundle options but only after you choose a paid option, but even then it's not too pricy depending on what your needs are. They also have add-ons and ways to grow without needing to fully upgrade and pay a lot more before you need to.
If you're looking for more course-based, Thinkific would be my suggestion for you.
PRICE:

Teachable comes in after Thinkific because in a side-by-side comparison Thinkific is a bit stronger, but Teachable also has its positive points.
The major difference I notice between the two course creator platforms is that Teachable offers better marketing features whereas Thinkific offers better site design.
Teachable also has better analytics if that's something that you're concerned with (and you should be if you're serious about growing your online business).
You can also host courses on Teachable for free and if you're wanting to move into the membership option then Teachable offers its community integration on its lowest paid option as well as a student referral program, whereas Thinkific only offers membership options at its higher pay points.
The reason Teachable is below Thinkific for me is that Thinkific is a more dependable provider overall. When you get into the technical side of it, Thinkific has fewer technical problems than Teachable while trying to use the platform. I've never had issues with either of them, but the data is out there and it's something to consider.
PRICE: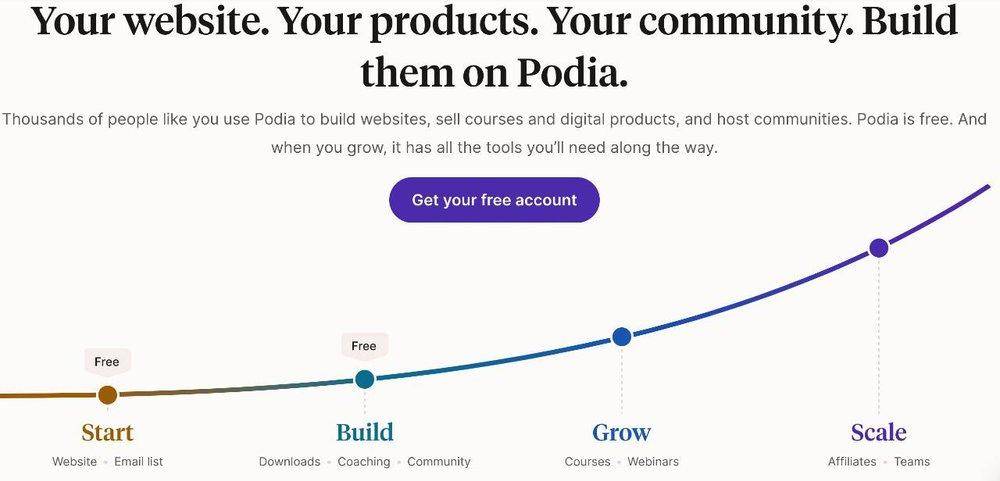 Podia is the best start-free and then pay-as-you-grow option that allows users to create and sell online courses, digital downloads, and memberships.
It comes with some basic community functions and also manages your checkout and sales so you don't need any coding or design skills, and it also uses a drag-and-drop website builder, which is big if you're not a tech-savvy person.
You also have the option to sort out all your bookings for 1-on-1 sessions in Podia if you don't already have something like Acuity that you're using for scheduling, which is a nice little bonus.
Podia also offers affiliate payouts for members, so if you have a member who refers someone else to your course or membership they can get a nice little payout, which is great when working to build your business.
The downer is its membership community engine is fairly simple so if you're looking for a more robust online community option this may not be the best match or you'll have to use something like a Facebook group, which means more work and moderation on another platform.
If you're looking for free podia alternatives then keep scrolling as I have more listed below that you might like.
PRICE: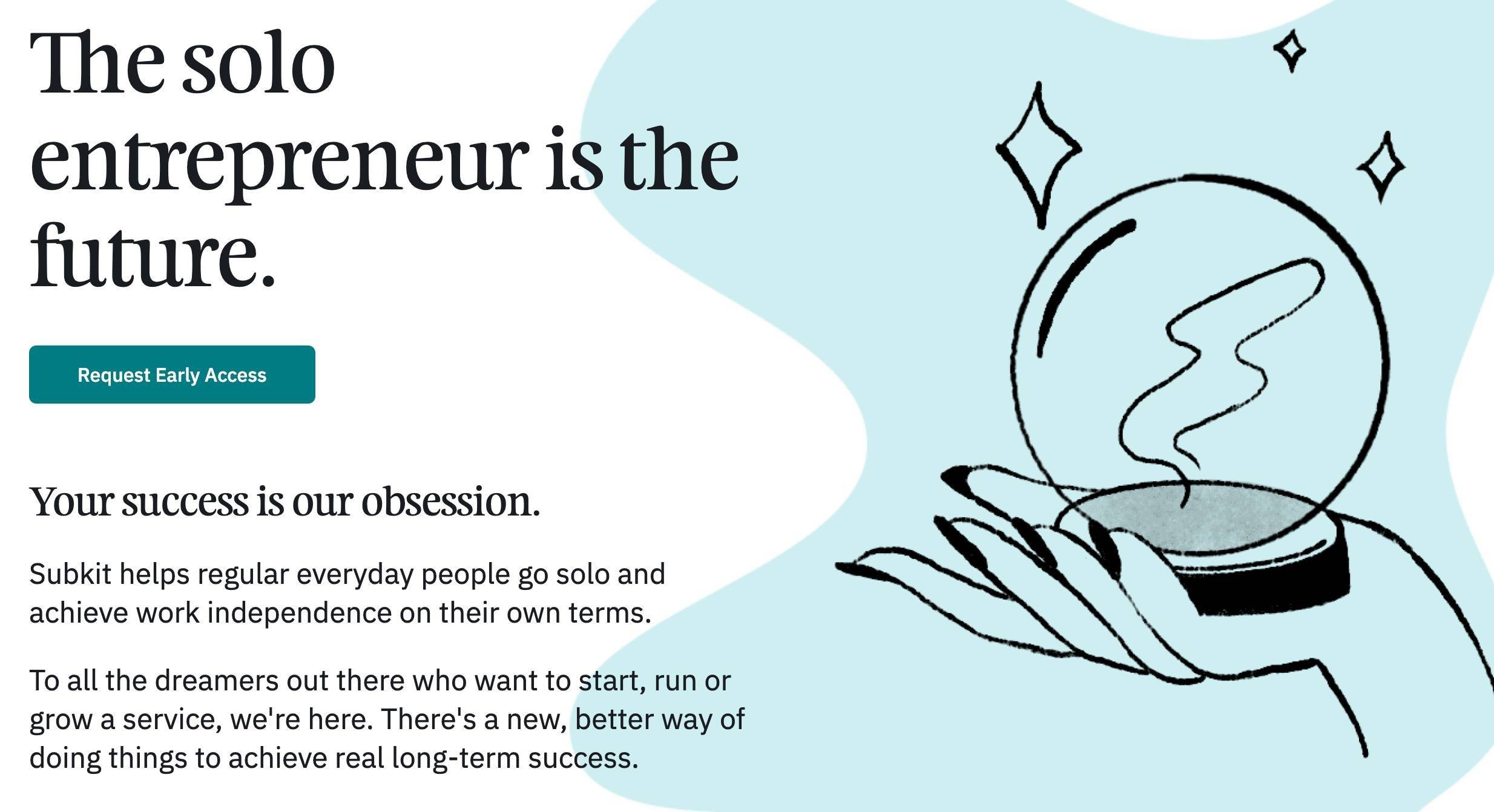 Subkit is the new kid on the block and a great option for new entrepreneurs looking to build their successful online business in one convenient spot.
The best part about Subkit right now is that it's still in its beta so they're offering a great deal to those who sign up now. The platform runs very similar to Patreon but has a lot of big plans to bypass Patreon in what it has to offer.
Right now if you join you won't pay a single dollar until you start making $500 or more per month. Once you hit that number you'll only need to pay a flat fee of $39 a month. Everything is run through Stripe so it's super quick and easy to set up and if you don't know how they'll walk you through the process when you sign up. If you're looking for the quickest business in a box option, this would be it.
With Subkit you can schedule virtual sessions, offer subscriber-only content, create multiple subscription plans, conduct surveys and also run your email marketing campaigns through their platform. They also have plans for podcasting in the future as well as a few other things.
If you're looking for a membership site that you can grow with and you want to help contribute to its growth, then Subkit is the way to go. I really loved working with Searchie during their growth stage because I got to help them build a better product for me to use, you can get the same benefit here with Subkit where they will actually listen to what you have to say, which won't happen with other platforms.
PRICE:
Free

Start paying $39 a month once you hit $500 of revenue per month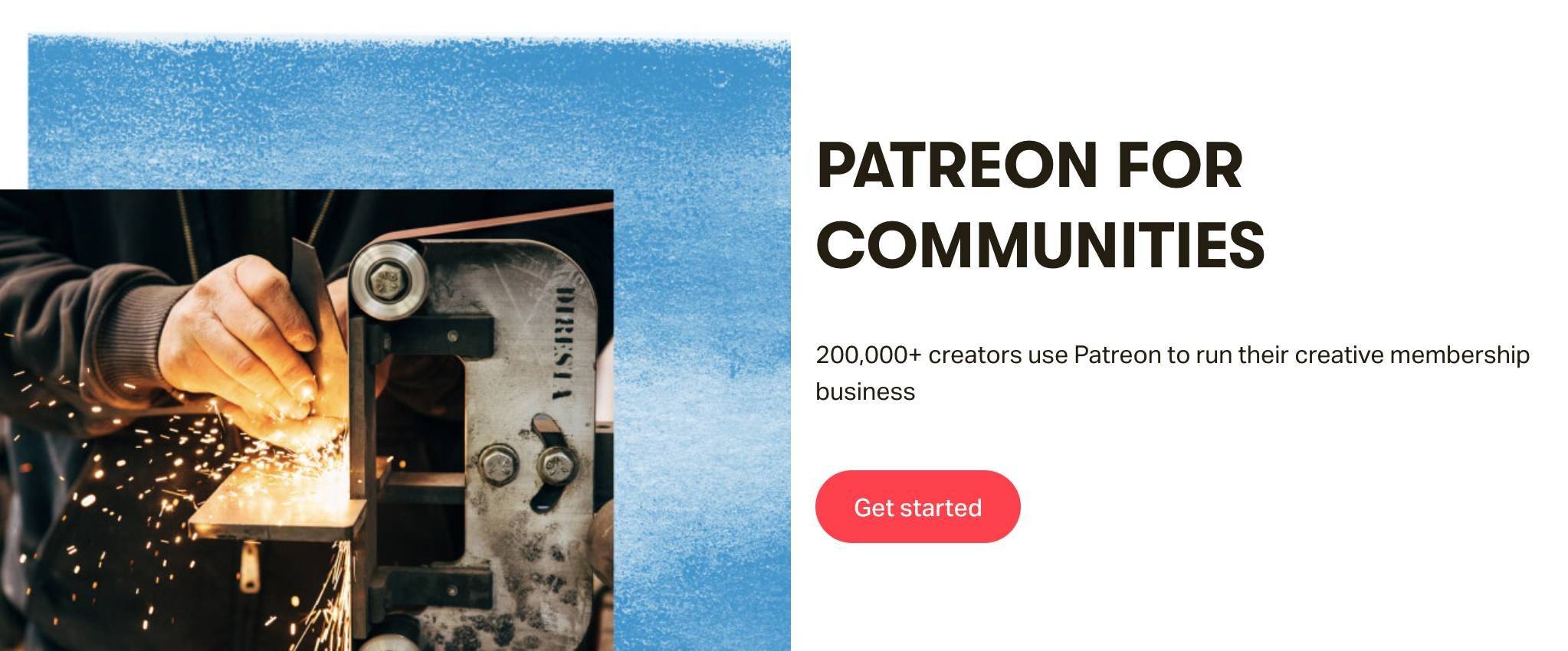 Patreon is the best free and most simple option for building a following to support you.
If you're an influencer, podcaster or content creator and you're looking for a simple and easy way to monetize your following, Patreon is the way to go. It's been around for a long while now and has that trusted brand clout. Even though it's lacking in advanced features like community options and course creation, it is by far one of the fastest and easiest ways to monetize your following.
But, if you're looking to eventually build out a proper membership program with things like interactive community options, apps or courses available within a membership hub then it's best to go with one of the above options that offer those from the start.
PRICE:
Free

You pay a percentage of your income as processing fees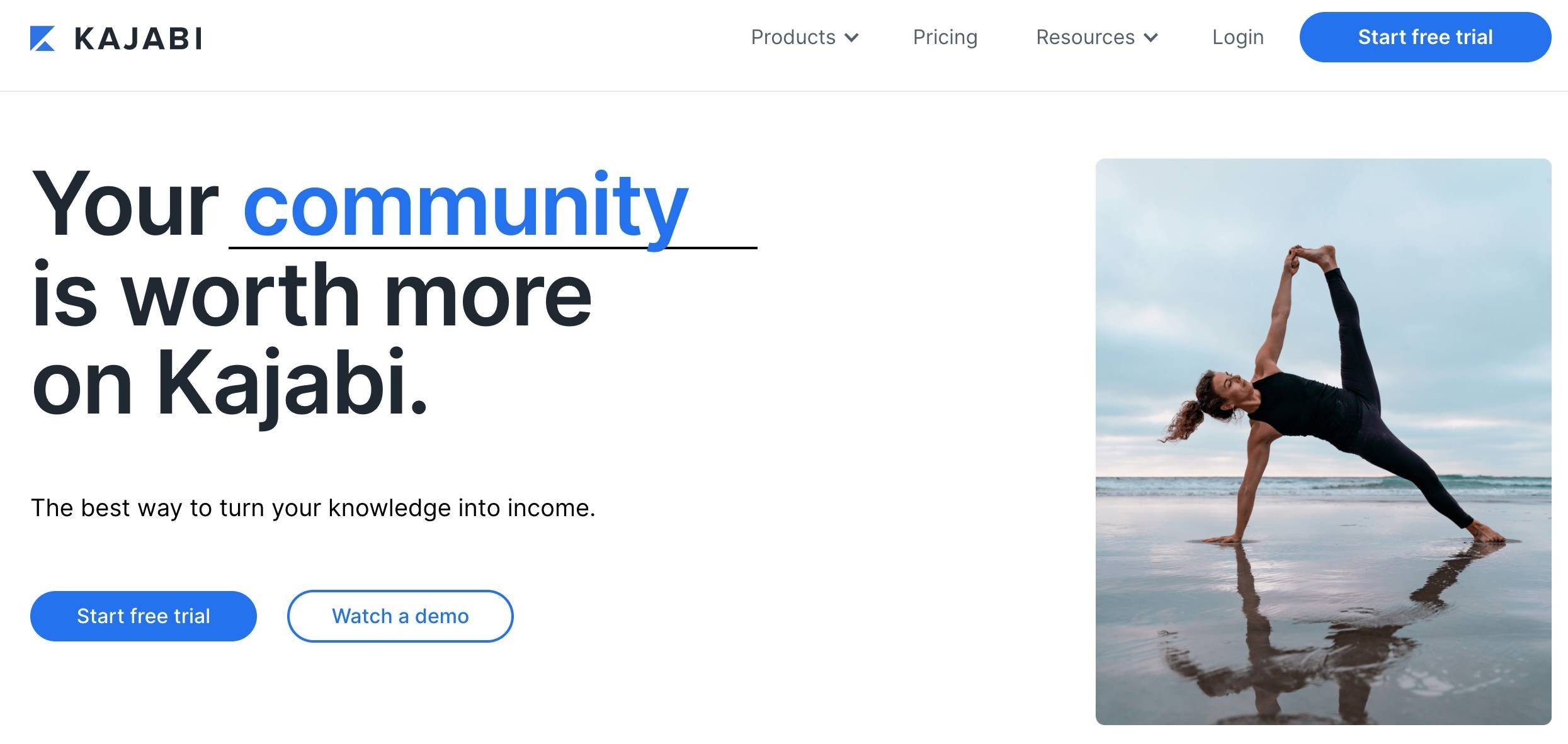 Kajabi is at the bottom of the list because even though it offers a 14-day trial, it's overall one of the most expensive options, but it's also a business in a box with almost everything you'll need on offer.
Kajabi does have a lot on offer for that higher price though. You have access to marketing emails, funnels, landing page templates, a website (if you don't already have an existing website) and much more which is great for someone who isn't very tech savvy but knows they need all of these things. But, if at any point you want to change something or switch out, it's going to be a long process to convert all of that over to other platforms.
For starters, you should already have (or be ready to build) your own business website using something like Squarespace or WordPress and your next business move should be building your email list (I love using ConvertKit) because email marketing is still the best way to grow and market your business. A great way to build an email list fast is by making a quiz people love taking. If it goes viral, you're in email heaven!
If you choose to do all that on Kajabi and then later decide to change because it doesn't offer everything you want, then you're looking at a lot of time and energy to migrate it all. So think carefully about where you are in your business journey and what exactly you need and want for your membership site.
PRICE:
14-Day Free Trial option

Options from $119-$319 per month
Which membership site platform is right for you?
At the end of the day, it all comes down to what you're looking for in a membership website and how much work you want to put into your membership site.
If you're more on the tech side and enjoy the idea of building your own membership websites with the "drag and drop" option and you really want to customize everything and make your membership site look magical, then I'd suggest going with Searchie.
If you want to focus mostly on building courses with the option to branch out into memberships, then opt for starting with Thinkific.
If you're looking for more of a more simple and easy place to just upload your content to and build more of a following without the hassle of too much tech stuff then I'd suggest giving Subkit a try.
Both options offer free trials so you'll be able to build a basic membership site and get your hands dirty and try things out before you really commit.
In any case, this is a super exciting step for you and you're on your way to setting yourself up with more financial security and building that successful membership site and online business you've always dreamed of!
I hope this review of the 7 best membership site platforms has helped you decide on which one is best for you as you launch your online business.
If you're looking for more help or want to talk about more options, you can book a discovery call with me for 20 minutes and I'd be happy to explain more to you and give you a better idea of what direction you should go in.
You can also check out my resources page for more business tools to help you build a successful online business.
Can I use my membership site as my main website?
The answer depends upon your needs. While many of these platforms offer options to host a website, I would suggest finding a dedicated home for your main website for many different reasons like SEO and link building.
What's the difference between a membership and a course?
With a membership, you're creating a monthly recurring payment for your members. With a course, you are creating just a 1-time sale and will have to constantly promote it in order to get sales each month.