Calan Breckon • Updated September 23, 2022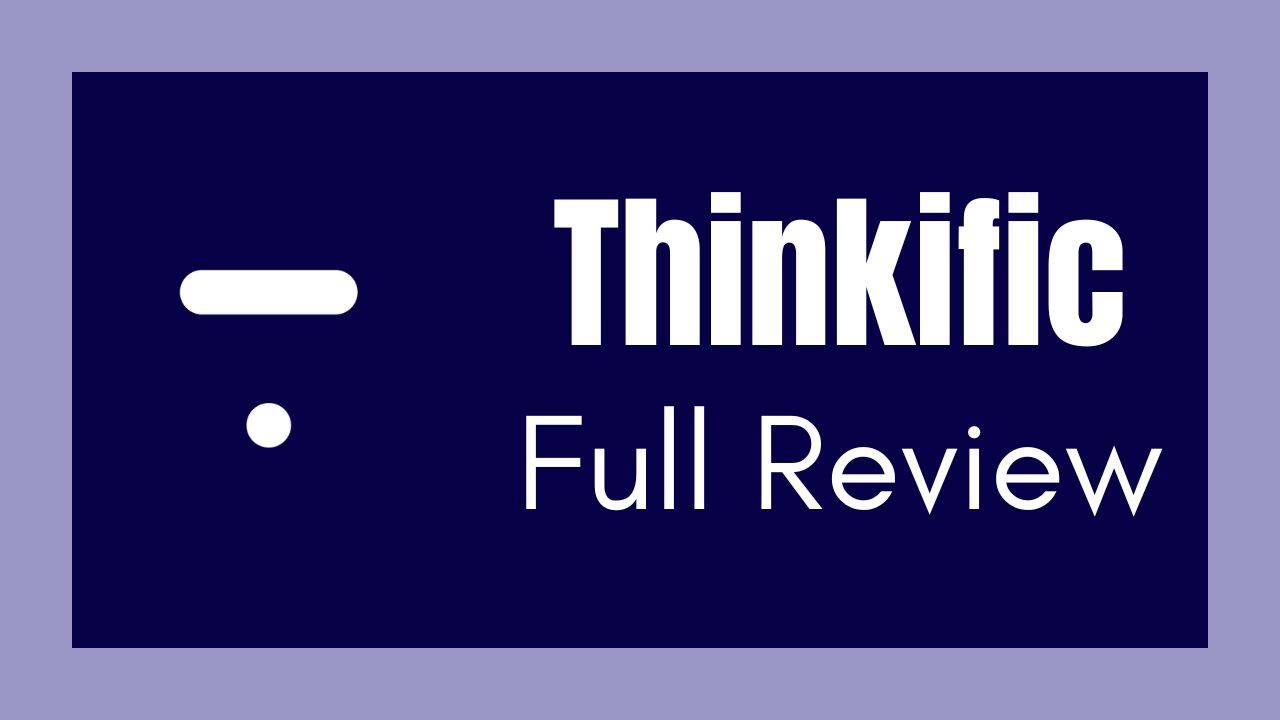 In this Thinkific review, I'm going to walk you through some of the pros and cons I've found while working with the course-creating platform and as well as who would fit best with it.
I've been hosting courses on the platform since 2020 and I've learned a few things along the way. There are a few big selling points that I love about Thinkific but there are also a few sore spots that I don't love.
Let's dive in.

Who should use Thinkific?

Thinkific is a great course creation platform for both new course creators and well-seasoned ones.
For those who are newbies, it offers a large library of educational teachings to help you learn all about course creation and how the Thinkific platform works.
If you've ever wanted to dip your toes in the water of creating a course but didn't want to commit financially (just yet), then Thinkific is for sure the best place to start that journey.
For those well-seasoned course creators, it offers a lot of great tools for growth and a number of benefits that make it a great home base.
Let's unpack a few of the pros and cons that can make or break your decision.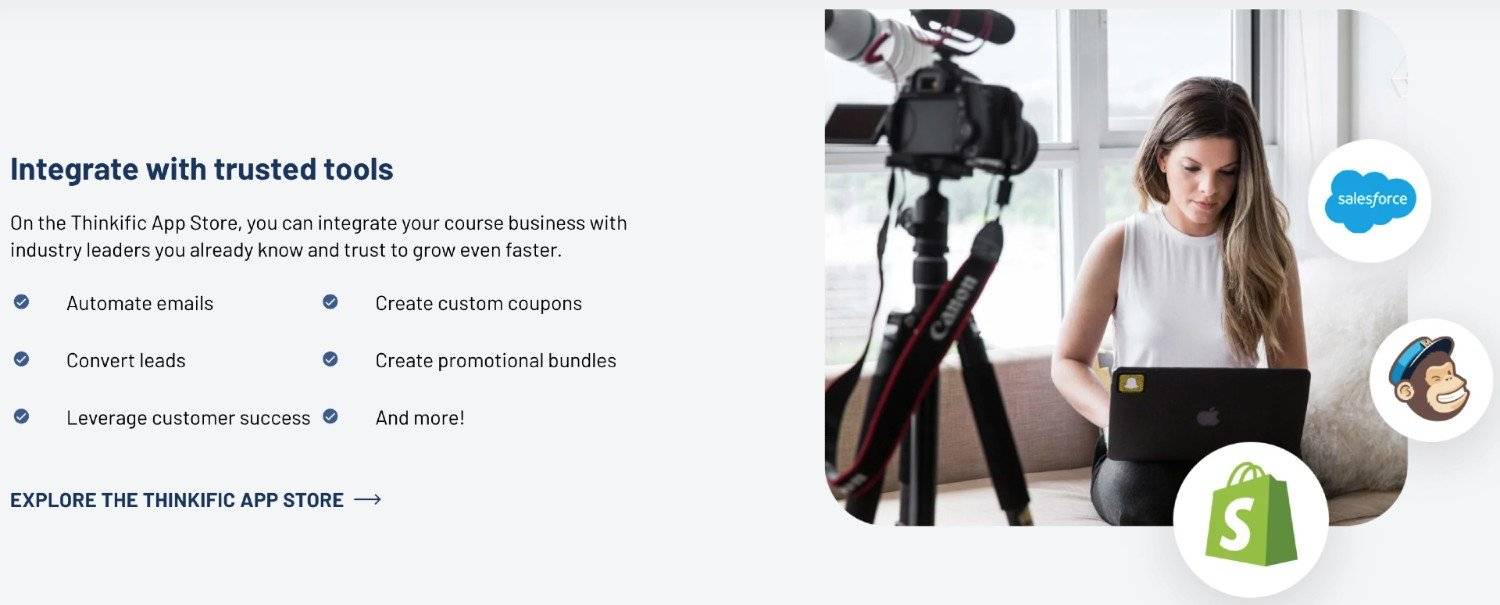 This is one of my favourite selling points for using Thinkific. Even if you're on their free option you still pay 0% transaction fees for any sales of your courses, which makes a huge difference to a budding business owner or entrepreneur trying to build up revenue and grow their business. Keep in mind you will still have to pay the processor fees if you choose to use Stripe or PayPal but you would do that regardless with any money going through those systems.
Compared to other platforms, Thinkific plays nice with a lot more options when it comes to integrations. They have quite a large app store where you can connect most of the major players of online tech and they have most of the big email providers on offer, like ConvertKit, that are just one click away. This eliminates needing to use something like Zapier, which would end up costing you more each month.
I've included this because Thinkific used to have a 2-page checkout system which always ended in at least a few dropped sales. A 1-page checkout was in beta for the longest time but as of this writing, from what I can tell they have now fully moved to the 1-page checkout which is much better for captured sale success rates.

Remove Thinkific Branding
One of the downers in my opinion is the fact that you can only fully remove Thinkific branding on the Grow plan. I would have liked to see this be offered on their Start plan, but at the end of the day, it's not the biggest deal and shouldn't overshadow all the positives of the platform.
Thinkific has an affiliate program and system where your affiliates have their own hub pages to track any clicks and sales, which is great. What's not great is you can't set a custom cookie duration for affiliate links. Most programs offer a window that a sale has to be made by to count as an affiliate but Thinkific doesn't offer this option. Paying out your affiliates is also still a very manual process to manage. For comparison, ThriveCart offers a cleaner system and an option for automation in regard to payouts. They also offer cookie limits, but they take a % of all transactions, unlike Thinkific with its 0% fees.
Analytics is down here in the cons simply because I think there are other platforms out there that do this better. They still have analytics to show you but overall the system is still a bit clunky and it's not as in-depth as other platforms offer.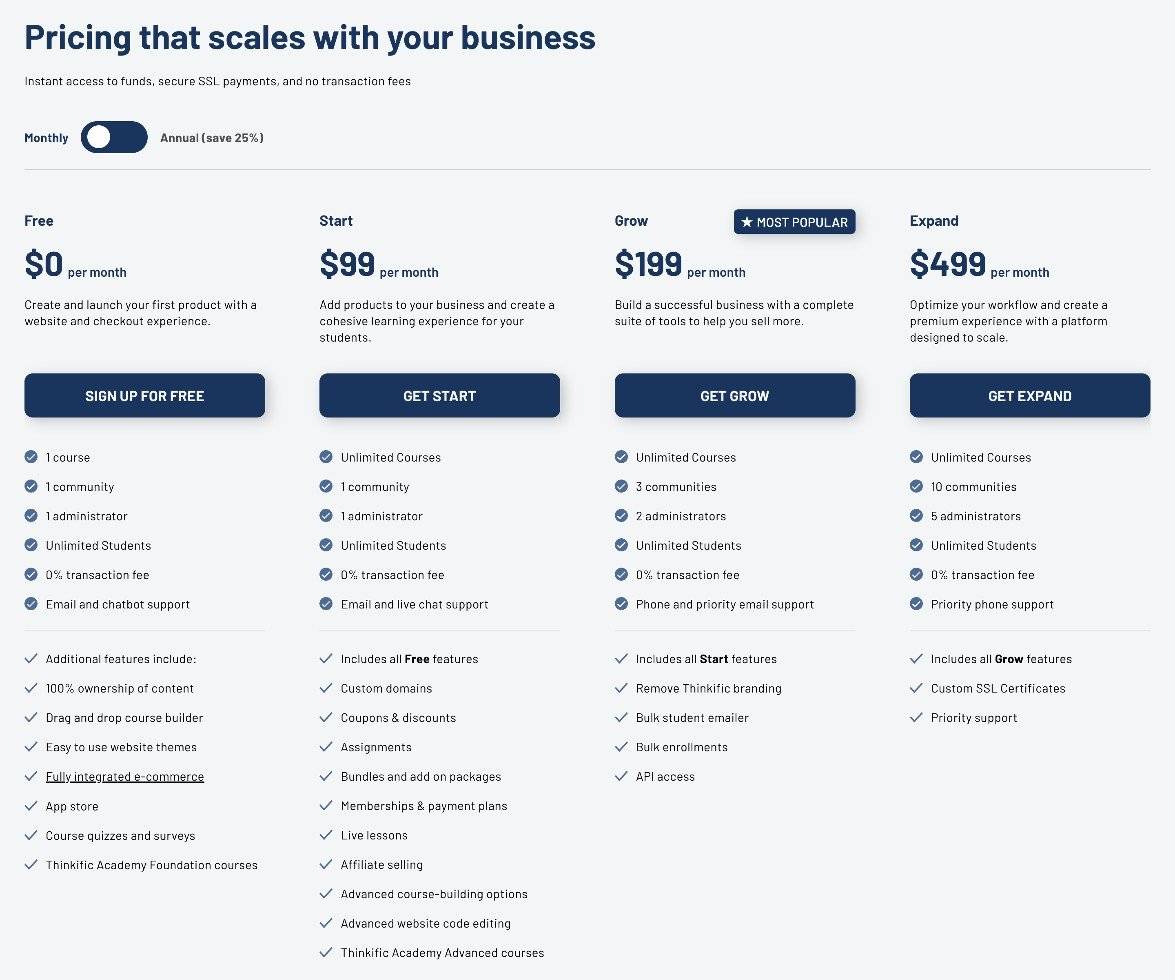 1. FREE PLAN
$0/month
0% Transaction Fees

1 Admin

1 Course

Website
In terms of what they offer, I really do believe Thinkific has a great free plan option. The fact that they take 0% transaction fees is almost unheard of in the online course creation space. I've hosted multiple free courses on Thinkific over the years and I've been super happy with them for a long while now and I don't plan on moving them or changing any time soon.
2. START
$99/month or $74/month if you pay yearly
Unlimited Courses

Membership & Payment Plans

Coupons & Promotions

Marketing Analytics Integrations

Affiliate Reporting

Drip (scheduled) Content

Custom Domains
The Start plan is where you're going to need to be if you want to start offering memberships, bundle courses together for sales promos, and offer payment plans. This plan gives you some very important features like marketing analytics, affiliate reporting and custom domains. The affiliate reporting is big because I always say the best advertising is word of mouth so if you can have affiliates for your program and track them then you'll be able to see bigger success with your courses.
The custom domain has some technical stuff to it but in the long run, it's worth it because it makes everything look cohesive from a URL point of view. The downer of this plan is you will still have the Thinkific branding in places and can't remove it until you move up to the Grow plan, but overall it's a great option.
3. GROW
$199/month or $149/month if you pay yearly
2 Admin

Remove Thinkific branding

Prerequisite Lessons

Require Video Completion

Assignments

Completion Certificates

Create hidden Courses
This plan is good for the students if you want to be really focused on getting them over the finish line with your course. You can set up limits that they have to meet in order to move forward as well as video completion settings. These are great to make sure that people are actually going through the coursework. I mean, that's the whole point, isn't it?
4. EXPAND
$499/month or $374/month if you pay yearly
Email white Labeling

Onboarding call
This is the "everything and the kitchen sink" plan. Basically, if you're a huge course creator or maybe have them as part of your corporate company and need a hosting site then this is where you'll need to be. They also offer an onboarding call so that person in IT can sort out all the details with them before the company takes anything live.

Overall, I recommend checking out and using Thinkific, especially if you're looking to host just a few free courses. I started off using the free option and still do for a few of my courses and it's so great to be able to bring in some extra revenue without worrying about keeping up with the bills and if it's all balancing out at the end of the month.
Thinkific also has a huge library of trainings for a newcomer to dive into and learn all the basics while they navigate building their first course. Add in the 0% transaction fees on all plans and I'm sold. Practically no other platform offers this option on their free plans.
I highly suggest you take Thinkific out for a spin on their free plan and then go from there, you literally have nothing to lose. If you use the link below you can also claim 1 month free and use all the fancy plan perks to see if it will also be worth upgrading in the future.